Carnival of Madness w/ Shinedown, Chevelle, Puddle of Mudd, Sevendust and 10 Years
Verizon Wireless Amphitheatre
July 24, 2010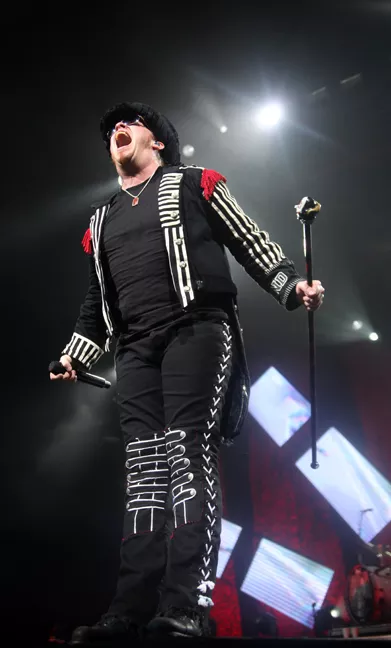 The Deal: Carnival of Madness Tour hits hot amphitheatre for six hours of music without the carnival atmosphere.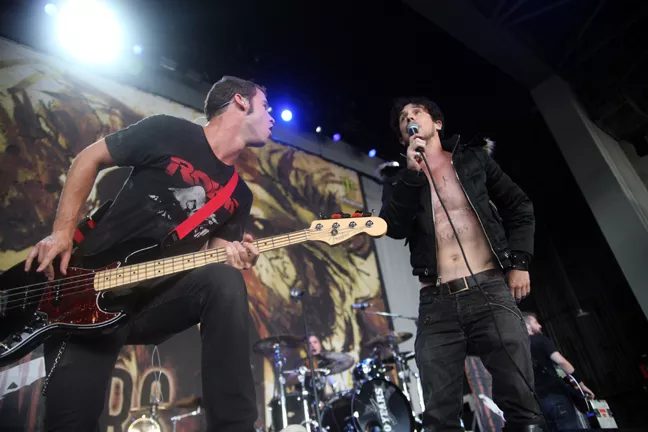 The Good: The day got started around 5 p.m. with a 30-minute set by 10 Years. Singer Jesse Hasek, wearing a jacket and with "Country Roads Take Me Home" written down his torso in black ink, did his best to warm up the crowd. They performed like they were the headliners, throwing everything they had into the set.
Up next was a 40-minute set from Sevendust who had the crowd jacked up and singing along. After opening with "Splinter," the band tore into "Praise." Despite the short set, the band found time to slow things down for "Angel Son." They appeared to just be hitting their peak when rolling into the set closer "Face to Face," leaving a lot in the amphitheatre craving more from the Atlanta rockers.
Puddle of Mudd appeared to have a blast on stage as they rumbled through a 45-minute set that included a cover of AC/DC's "T.N.T." Singer Wes Scantlin, who mooned the Charlotte crowd a couple years ago when opening for Nickelback, was in better spirits this time around.
While most bands had large banners or some kind of signage behind them, Chevelle had the stage stripped down to its bare minimum for their 50-minute set. Not much for the flash and glitter of other bands, the trio stuck to the music and ripped through song after song with a toned-down intensity.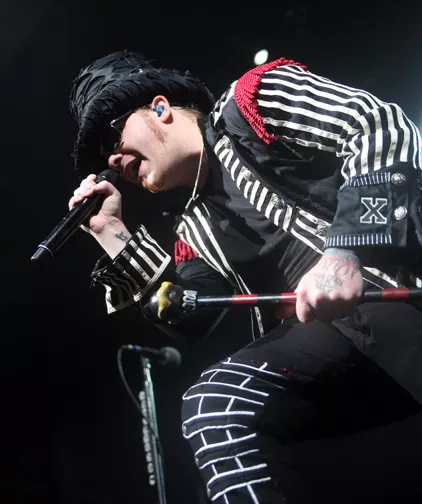 Shinedown hit the stage for a one-hour-and-45-minute set full of hits and two soundtrack songs, "Diamond Eyes," written for the new movie The Expendables and "Her Name is Alice" from Alice in Wonderland. Singer Brent Smith, with top hat, tails and a cane, looked like a circus ringleader as his vocals were clearly the focus of the band's music. He's got a great voice, but if I'm being honest, there's a bit of Nickelback-ness to their music that sounds overly-commercial and generic.
The Bad: It's only bad that more bands don't follow the lead of Witherspoon, who was seen wandering around shaking hands, talking with fans and taking pictures during Chevelle's set.
The heat was rough, but overcast skies sure did help. I stuck around for as much as I could handle of Shinedown's set, but had to bail about one-third of the way through. I'll admit, I was more interested in seeing Sevendust and Chevelle than the headliner.
The Verdict: A bit of a roller coaster with ups and downs as the day went on. Labeled as the "Carnival of Madness," the only thing "carny" about it was Shineown's Smith's jacket and top hat. I would have rather had more balanced set times instead of what amounted to be a headlining set by Shinedown and brief sets by the others — it should have just been called "Shinedown's Tour with special guests."
Sevendust setlist
Splinter
Praise
Pieces
Angel Son
Driven
Unraveling
Face to Face
Puddle of Mudd setlist
Control
Borrowed Time
Stoned
Spaceship
Blurry
T.N.T. (AC/DC Cover)
Psycho
She Hates Me
Chevelle setlist
The Clincher
Still Running
Jars
Well Enough Alone
Send the Pain
Sleep Apnea
Comfortable Liar
The Red
Family System
Letter From A Thief
I Get It
Shinedown setlist
Sound
Devour
I Dare You
Cyanide
If You Only Knew
Diamond
45
Heros
Left Out
Crow and Butterfly
Alice
Save Me
Son of Sam
Encore
Simple Man
Fly
Second Chance