Michael Bublé
Time Warner Cable Arena
July 10, 2010
The Deal: Canadian crooner brings Crazy Love Tour to Charlotte.
The Good: I've heard great things about Naturally 7 both times they've opened for Michael Bublé, but both times, I've missed their set. Maybe the third time's the charm.
Bublé came out and performed "Cry Me A River" from his latest CD, Crazy Love — a song previously done by Ella Fitzgerald and Joe Cocker. It set the tone for the evening — both with Bublé's big band backing him up and a 20-song set filled with cover songs. The cover song-heavy set doesn't come as a surprise however, as Bublé has only written a handful of songs over the years.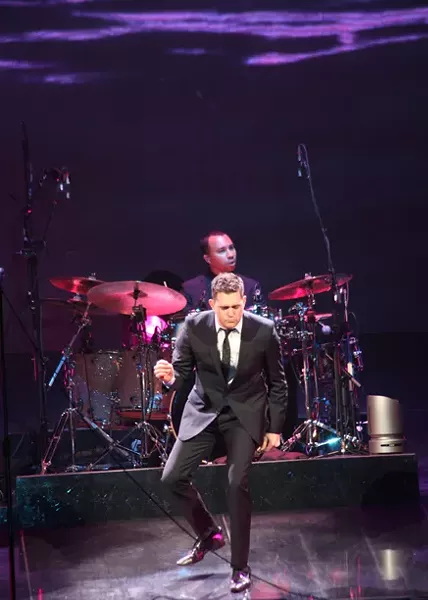 His talent for singing is matched with his abilities as an overall entertainer — silly anecdotes, jokes about his band and a unabashed honesty and humility are what make his shows so fun to watch. He addressed the crowd after the second song and asked how many men there had been dragged by their wives... He then told the crowd he was looking to have a party — they can dance if they'd like or stand up and scream, but "if someone behind you says to sit down because they're trying to see the Michael Bublé concert, turn around and tell them to go f... themselves." (Bublé mouthed the word without saying it.)
He sang "All of Me," "At This Moment" and "Mack the Knife" before his first original, "Everything." After which, he spent some time introducing his band and having fun at their expense, saying some were sluts, another was from Charlotte to get a big reaction — he was actually from San Antonio, etc. His rendition of "Crazy Love" had a handful of couples dancing in the aisles and at the front of the stage.
Bublé made his way to a small stage in the middle of the arena floor for "All I Do" with Naturally 7, followed by an acoustic version of his first hit, "Home." He made his way back to the main stage while singing "Save the Last Dance," before winding down the set with a few more songs and his latest single, "Haven't Met You Yet."
At the end of his three-song encore, Bublé told the crowd how much he thanks them for spending their hard-earned money to go to the show and that he hopes to continue performing until he's "an old fart." He also plans to end every show with "Song For You." Much like two years ago when Bublé performed at the same venue, he ended the song by halting the band, stepping away from the microphone and belting out the last verse with no amplification — a feat few performers try to do.
The Bad: That Bublé doesn't write more original songs. The few that he has written have mostly become hits for him, so you'd think he would want to build off that success instead of becoming a greatest hits of the crooning world.
Two songs which appeared on his setlist, "Best of Me" and "You Don't Know Me" were not included in the performance, but "Georgia" was added in.
Bublé offered a great rendition — complete with dance — of a portion of Michael Jackson's "Billie Jean," but it was followed by a cover of "Twist and Shout" that I thought fell short of the mark. Bublé was hyping the crowd for a party all night and said he wanted to recreate a scene from Ferris Beuller's Day Off by singing the Isley Brothers/Beatles hit.
As the crowd got up for a big singalong, Bublé launched two beach balls into the crowd. Really? Two? A few months back, Metallica launched about 40 into the crowd — which may have been extreme, but two was completely underwhelming for a "party" atmosphere. He could have also used confetti, instead saving that for the end of "Feeling Good" in the encore.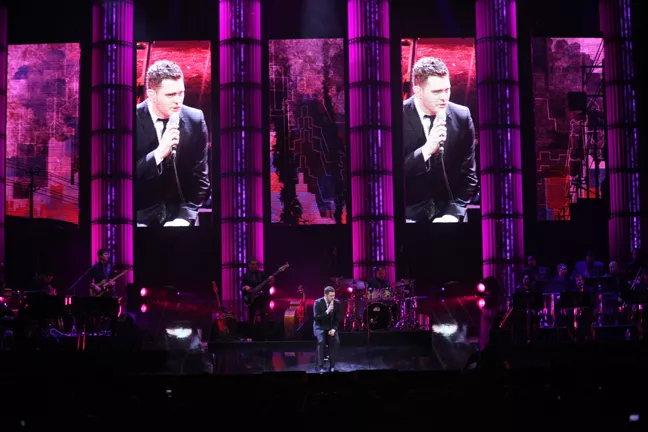 The Verdict: Bublé puts on an entertaining show that draws a large crowd of all ages.
Setlist
Cry Me a River
All of Me
At This Moment
Mack the Knife
Everything
Band Intros/Instrumental
World on a String
Crazy Love
Georgia
For Once In My Life
Billie Jean
Twist & Shout
All I Do (with Naturally 7)
Home
Save the Last Dance
How Sweet It Is
Heartache
Haven't Met You Yet
Encore
Feeling Good
Me & Mrs Jones
Song for You