Mad Tea Party w/ JT and the Dragpipes
Puckett's Farm Equipment
July 9, 2010
The Deal: Charlotte rockabilly quartet opens for Asheville uke-abilly duo.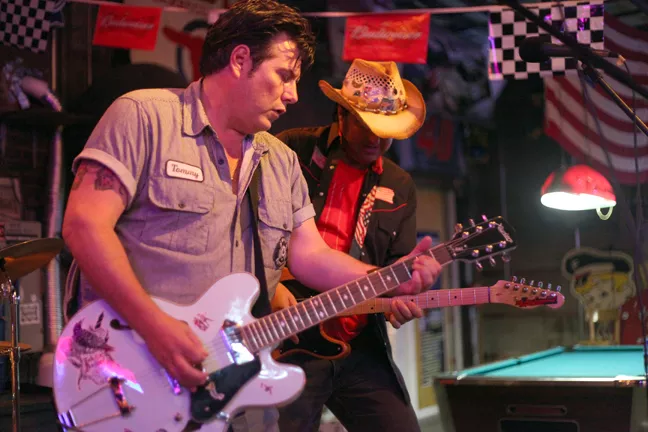 The Good: The night got started with Charlotte rockabilly quartet JT and the Dragpipes comprised of guitarist/singer Jem Crossland, guitarist/singer Tommy Ray, bassist Drew Badger and drummer Rusty Cloninger. While it was only the band's third performance ever, you could easily see the comfort level and ease of performing. Where some bands might show their nerves, these guys not only appeared to be relaxed, but also — if there were any mistakes — you didn't notice. Exchanged smiles were witnessed as Crossland and Ray switched up vocal duties while both let their guitars speak for themselves with gritty solos and revved up riffs. I'd keep an eye out for these guys, perhaps at the next Cash Bash.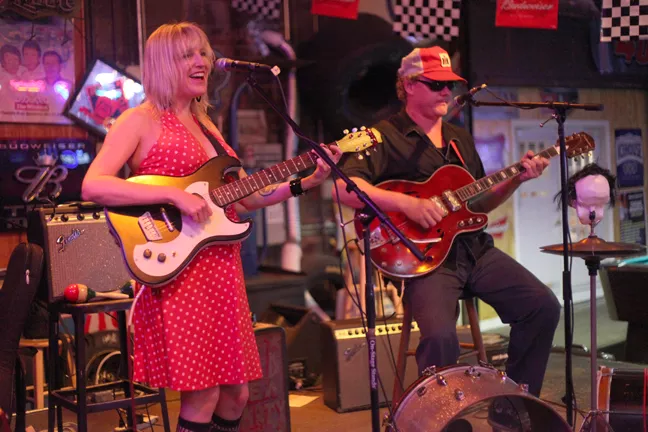 Mad Tea Party were the headliners, offering their unique brand of rockabilly that's generally established around the ukelele. Ami Worthen (who switches up the uke with a guitar) shows plenty of smiles while she strums and sings beside guitarist/drummer Jason Krekel who uses two kick drums and a cymbal in a one-man-band style. The lyrics can be simple, but it's got a good energy to tap your feet to or get up and jive should the mood move you.
The Bad: That more people don't get out to the small Derita club to check out music more often — though the small crowd of about 40 appeared to enjoy every note that night.
The Verdict: Mad Tea Party always puts on a fun show with a unique spin on the familiar rockabilly sound. As for JT and the Dragpipes, they may be new on the scene, but I'm hoping they'll be around for a while.