Earth, Wind & Fire
Road Runner Mobile Ampitheatre
Thursday, June 24, 2010
The Deal: Stars align, inclement weather holds off and Earth, Wind & Fire puts on a show worthy of their legendary status.
The Good: The luxury of being EWF is knowing that if your voice isn't 100 percent on, the crowd will pick you up. Well, Phillip Bailey didn't allow that to happen. All the grumbling about him being good but founder Maurice White — who's no longer with the group — being better went out the window when Phillip just started hitting notes. Sometimes it just seemed outright unfair, you would've thought he was just showing off. Amazing.
He also had the quote of the night. Before starting the slow jams portion of the set he joked, "if you aren't with the one you made these memories with, shut up."
Verdine White is the engine that makes EWF go and he was as crisp and lively as ever on bass last night. Even his signature pants couldn't outshine his solos and his dance session before leaving stage was memorable.
The horn section was in constant movement, sometimes drawing  your eye from the other performers with their choreography going on in the back.
I've seen some good crowds in Charlotte but none this good before.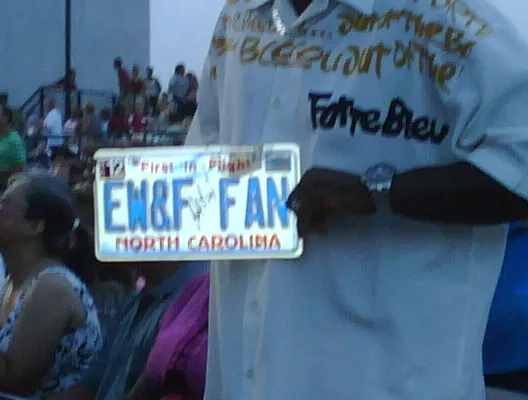 There was Lawrence Brooks. He not only had valid North Carolina license plate that read, "EW&F FAN" that was autographed but he also shared a scrapbook with us of EWF clippings and memorabilia that he said even the band has complimented him on.
There was Peggy Schug and Wells. Peggy was a short, firecracker of a woman who danced to every song, even in the aisle and shared a fan/slash water bottle thing that cooled off everyone around her. Her enthusiasm was contagious, even convincing concert-goers around her to get up for songs they planned on sitting out. Wells was a tall, older gentleman that quickly earned the nickname "Dance Fever," gyrating before he ever even got to his seat. He was so nice, so energetic. From high fives with everyone within his wingspan to dancing with his wife or any woman willing, most memorably cutting a rug in the aisle with a short black woman from another row. Ironically, he's an undertaker for a living but he was awesome.
The Bad: Lengthy intermission.
The Verdict: Nearly flawless.
Setlist:
Boogie Wonderland
Jupiter
Can't Get Away
Serpentine Fire
Sun Goddess
Sing A Song
Shining Star
Kalimba
You & I
Bright*****
That's The Way of the World
Would You Mind
Can't Hide Love
Head To The Sky
Devotion
After The Love Has Gone
Reasons
Betcha By Golly Wow (Cover)
Got To Get You Ito My Life
Fantasy
September
Let's Groove Tonight
Mighty Mighty