Bon Jovi w/ Dashboard Confessional
Time Warner Cable Arena
April 22, 2010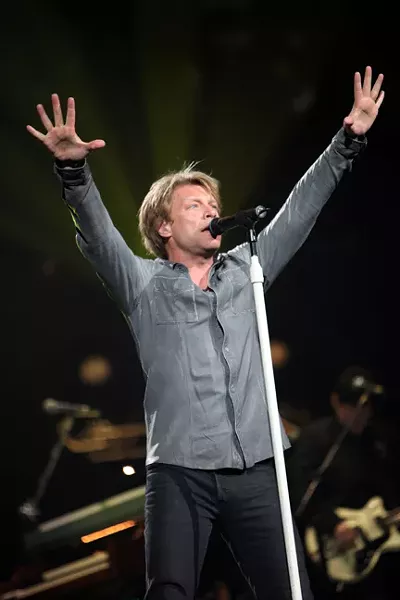 The Deal: Following up on their sold-out 2006 show in Charlotte, Bon Jovi performs to another sold out crowd for their Circle Tour.
The Good: The show started with a 35-minute set by rock band Dashboard Confessional — one of those bands who you're familiar with the name but you can't quite recall a song title. Considering Bon Jovi is big enough to draw a crowd on its own, DC is probably best seen as a warm-up, a goal they accomplished readily. The band performs generic rock that isn't overwhelming, but just gets you tuned up. They drew a big reaction with their cover of "Summer of '69" to wrap up their set.
Bon Jovi hit the stage to "Happy Now" and rarely calmed down throughout their hour-and-45-minute main set. It was filled with hits, a handful of tunes from their most recent album, The Circle, and an obscure song or two. As someone who gr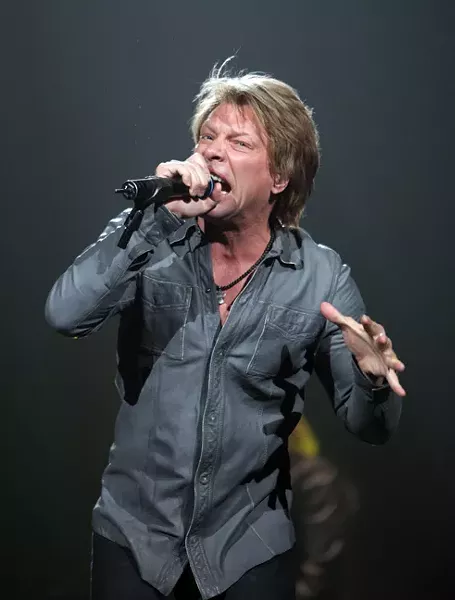 As you'd expect, "You Give Love a Bad Name" drew large audience participation as did a handful of the band's other big songs — "Bad Medicine," "Lay Your Hands On Me," "I'll Be There For You" and "Livin' on a Prayer."
The stage was surrounded by a number of large video screens that separated into smaller sections, rotated, shifted and flattened out during the show — quite impressive technology that made for regular motion in the background.
The band's song "Work for the Working Man" sounded like the closest tie to fellow New Jersey-an Bruce Springsteen's genre of blue-collar rock. During the song, screens flashed cartoon images and words from the song.
During "Bad Medicine," the band broke out into a verse and chorus of Robert Plant's "Bad Case of Loving You." Jon and Sambora were front and center for "Diamond Ring," a song Jon noted that the band doesn't play too often.
There wasn't much banter with the crowd during the performance. A few thank yous were exchanged and Jon also made note of "I hope the next generation is more of a 'we' generation instead of a 'me' generation."
While set up like a large circle, the band failed to make much use of the entire layout. Only once did singer Jon Bon Jovi find his way to the back of the stage and he and guitarist Richie Sambora made their way out to the outer circle of the stage for just two songs (Jon went back during the encore, once, as well). Bon Jovi himself went through three shirt changes during the performance, for those of you who were counting.
While Sambora has perfected the anguished guitarist faces and Jon has gotten down some of the cheesy rock moves to a science, the climax of the evening had to be the start of the encore.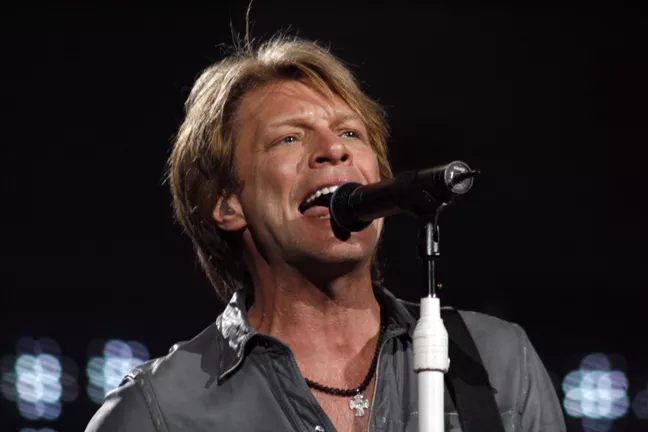 Under a single spotlight, with only keyboard accompaniment, Jon stood and sang a powerful cover of "Hallelujah" that showcased his vocal range and power without being overwhelming or cheesy.
The encore was followed up with Jon yelling "Oh no, it's 1984 again!" as the band tore into "Runaway" followed by "Wanted Dead or Alive" and "Livin' On a Prayer."
The Bad: Dashboard Confessional doesn't write the kind of songs that are immediately memorable, so while wrapping up with "Summer of '69" was a good choice, it also made their own songs look weak in comparison.
Probably a bad idea to have the band's security guy tell the photographers, "Jon is going to come out, have his hands raised up and be bouncing in place when the screen lifts." Thank you, Mr. Security Guard, for eliminating all sense of spontaneity in the band's show. I would have liked a little more natural-looking responses from the band and a bit of changing up the arrangements of some of the classic songs. An updated version of "Livin on a Prayer" would have gone a long way.
The Verdict: Moments of cheese were outweighed by the fact these guys have written some classic rock tunes that will live on for years. While a lot of bands from the '80s "hair metal" days didn't survive or today sound extremely dated, Bon Jovi is one of the few that matured with the times, has kept a solid fan base and has continued to produce records that attract large numbers of fans. The band pretty much played their songs by the numbers and didn't change them up much, so it was "Hallelujah" that stood out the most.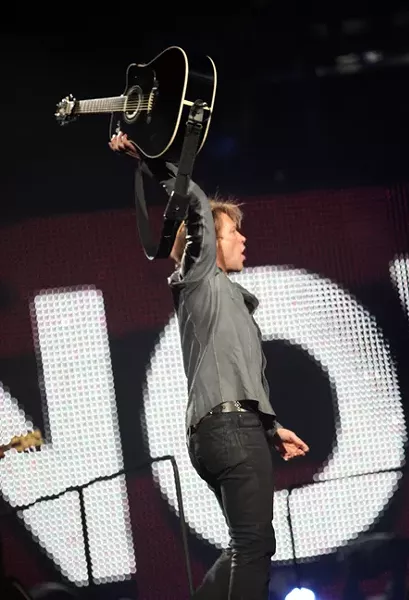 Setlist
Happy Now
We Weren't Born to Follow
You Give Love a Bad Name
Whole Lot of Leavin'
Born To Be My Baby
Lost Highway
When We Were Beautiful
Superman Tonight
We Got It Going On
Bad Medicine > Bad Case of Loving You
It's My Life
Lay Your Hands on Me
Make a Memory
Diamond Ring
I'll Be There For You
I'll Sleep When I'm Dead
Captain Crash and the Beauty Queen from Mars
Work for the Working Man
Who Says You Can't Go Home
Someday I'll be Saturday Night
Encore
Hallelujah
Runaway
Wanted Dead or Alive
Livin' on a Prayer