Black Eyed Peas w/ LMFAO
Time Warner Cable Arena
Feb. 20, 2010
The Deal: Pop hip-hop group brings its The E.N.D. Tour to Time Warner Cable Arena to entertain with highly-choreographed two-hour set.
The Good: The night got started with LMFAO — the "party rock"/electro-hop duo performs simple party anthems, and while their '80s schtick is nothing new, they sure as hell worked their asses off to try and get the crowd going. The duo — member Sky Blu recently got into the news for an altercation with Mitt Romney — made sure to toast Romney before the song "Shots." The duo performed for nearly an hour, probably because of the lack of Ludacris on this stop on the tour. Their set also included their first single, "I'm in Miami Trick," and plenty of Michael Jackson-like dance moves.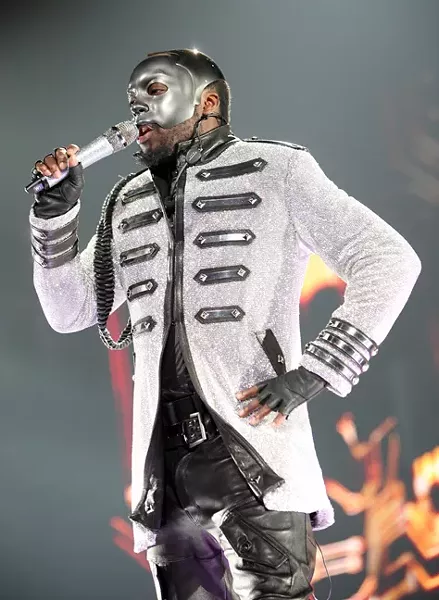 The Black Eyed Peas' set kicked off with a giant digital face talking to the crowd before each member rose up from the floor in a single spotlight to the overwhelming screams from the audience. No surprise that they kicked things off with "Let's Get it Started" before rolling into a few tracks of its latest album, The E.N.D.. They rolled things back after that going to hits "Don't Phunk with My Heart" and "Shut Up."
After that Will.i.am offered a freestyle rap to go along with some text messages that were scrolling up the video screens — with mentions of Ludacris seen in the texts, one had to wonder how old those were. Regardless of how on the spot it was, the rap was entertaining enough as it incorporated random phrasing. Next up was the repetitive and mildly-annoying recent single "Imma Be" — more on this below — before "Hey Mama" and "My Humps."
Each member then got their own chance to shine as Apl.de.ap soloed on "Bebot" and "Mare." Taboo flew out of the stage on a glowing motorcycle and rode out over the crowd while singing "Rocking to the Beat."
Fergie was up next, performing three songs from her solo album, The Dutchess — "Fergalicious," "Glamorous" and "Big Girls Don't Cry." It was an opportunity for her to show off her vocals as well as another of her many outfits — the band had a handful of costume changes during the show.
Will.i.am then offered a DJ set at the end of the stage's ramp which hit on a number of songs and genres — Kings of Leon ("Sex on Fire"), Guns N Roses ("Sweet Child O Mine"), Nirvana ("Smells Like Teen Spirit"), Michael Jackson ("Thriller" and "Wanna Be Startin' Something"), Melle Mel ("White Lines"), Estelle ("American Boy") and others. At the end, Will.i.am told the crowd the group recently finished working on a music video and said they'd play it for the crowd on the big screens... all 10 minutes of it. (More on that below, too.)
During many of the songs, the group had six dancers in a variety of masked costumes on stage. At the end of the night, the dancers were mask-free and freestyling as the group played "I Gotta Feeling" — one of the dancers was also called out as it was her birthday and Fergie led the audience in singing to her.
Before performing "Where is the Love?," the group stood at the end of the runway into the audience and talked about their formation and how blessed they feel to have such a loyal audience and one of their most successful years ever.
The two-hour set wrapped up with a two-song encore of "Boom Boom Pow" and "I Gotta Feeling" which ended as cannons shot out confetti to cover the lower levels of the crowd.
The Bad: I'll start at the beginning — LMFAO isn't trying to be something they're not. For the duo, it's all about fun. They had a guy on stage dancing, their glasses have no lenses and there is writing on their briefs which ride above their belts... They're not role models for behaving properly — they're role models for partying. With that in mind, some parents were probably offended by the group's lyrics and gestures during songs like "I am not a Whore."
As for the Peas — with its highly-choreographed performance, the group is used to saying the same things in every city, so it was a bit of a faux pas when Taboo walked out and yelled, "Let's hear it for LMFAO!" followed by "Let's hear it for Ludacris!" Um, Taboo... Ludacris didn't perform here. Fergie and Will.i.am gave glances at each other and laughed after that one...
Will.i.am's DJ set seemed spur of the moment and off-the-cuff, but a quick look online — the tour even has its own Wikipedia entry — will let you know the group performs the same set every night, including the DJ songs.
After his DJ set ended, Will.i.am introduced a 10-minute, extended video for "Imma Be." OK, I get that you spent a lot of money on the video, and most people don't watch videos anymore, but to show it at a concert — after you already performed that song — seemed somewhat pointless. Most in the audience used it as an intermission to hit the bathrooms or the bar. After all, you can see the video online. Nobody is spending money to go see a video — if they were, they'd go to a Britney Spears concert or some other lip-syncher.
Here's my biggest complaint these days about the Peas, and a lot of pop bands coming out these days. Too many songs are based on repetition — almost like they give up on writing, and just repeat the hook as often as possible. This can be heard on "Imma Be" and "I Gotta Feeling." For me, I think the main set would have been better wrapped up with "I Gotta Feeling," and have them come back for an encore of "Boom Boom Pow" and end it on "Where is the Love?" — it's a better vocal showcase and the song that really kicked off the group's success in the mainstream.
Oh, how I wish I counted how many times the band said the word "Charlotte." Of course, every time the crowd hears the city name, they're going to cheer and the Peas easily said the Queen City's monicker at least 50 times.
The Verdict: Let's face it, no one is following around the Black Eyed Peas like they would Phish or the Grateful Dead — this isn't a jam-band. It's a choreographed and orchestrated performance that is meant to be seen as a show with vocal highlights rather than the concert of a band. You hear "Charlotte" in place of any city mentioned and fans go to see the songs performed basically exactly like they sound on the radio. If that's what you're hoping for, that's what you got — and you got it done really well. If you're hoping for something a little different than the album, you won't find it here.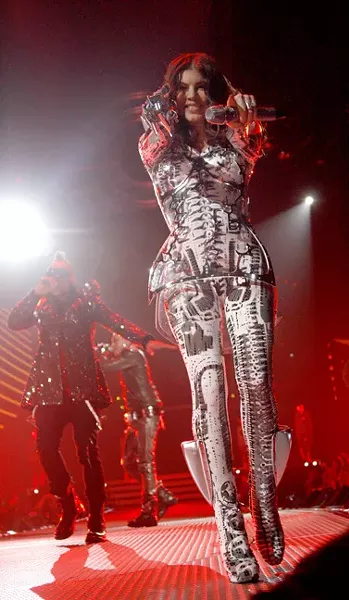 Setlist
Intro
Let's Get It Started
Rock That Body
Meet Me Halfway
Alive (snippet)
Don't Phunk With My Heart
Shut Up
Will.i.am Freestyle
Imma Be
Hey Mama
My Humps
Bebot (Apl.de.ap solo)
Mare (Apl.de.ap solo)
Rocking to the Beat (Taboo solo)
Fergalicious (Fergie solo)
Glamorous (Fergie Solo)
Big Girls Don't Cry (Fergie solo)
Ring-A-Ling
Will.i.am DJ set
Imma Be (Video interlude)
Now Generation
Pump It
Where is the Love?
Encore
Boom Boom Pow
I Gotta Feeling