2013 Wolves, Overmountain Men, Ken Will Morton
Thirsty Beaver
Dec. 19, 2009
The Deal: I'm not exactly sure who the headliner here would be — Ken Will Morton opened up the night, Overmountain Men packed the place for their set, 2013 Wolves entertained a new set of patrons for their closing set. Maybe a co-headlining bill is a better description.
The Good: The first thing I'll make note of is the sound at the Beaver. Thinking of the place as a small dive bar may give impressions of dirty floors, and horrible speakers that sound like a band performing through the average fast-food drive-thru microphone. Not the case here. The sound was crystal clear — you can tell the owners of the place are musicians.
Ken Will Morton opened up the night with a roughly 40-minute set of bluesy-folk-rock tunes on the acoustic guitar.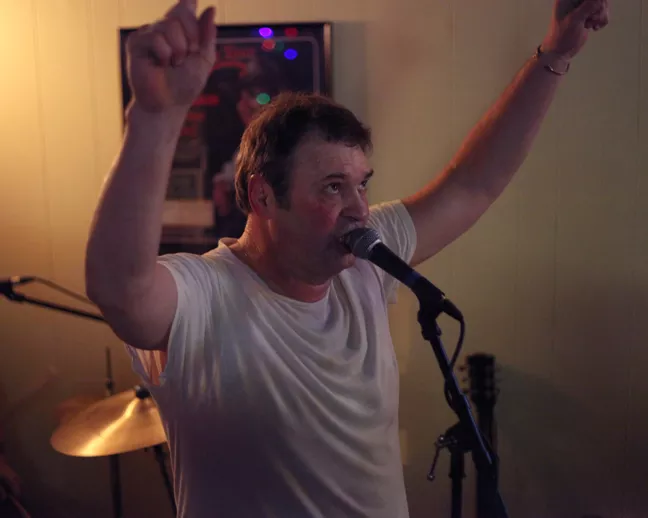 Overmountain Men was next up and rumbled through their hour-long set that included a couple holiday tunes including a roots-rockin' cover of "Run, Run, Rudolph." Singer David Childers did his best to raise the spirits in the house as he put everything he had into the performance and was sweating like a sin-filled preacher. Bassist Bob Crawford (The Avett Brothers) was replaced by Bill Noonan for the show and Noonan did a fine job - on the strings and the harmonies.
The night ended with a high-energy, distortion-fueled set by the mostly-instrumental 2013 Wolves. Neal Harper noted that he first picked up a guitar while a young teenager at Childers' house. The two-piece sounds like an amphetamine-fueled spawn of The White Stripes.
The Bad: Three great bands that didn't cost a dime — who could complain?
The Verdict: It may have been blistering cold outside, but things inside The Thirsty Beaver were steaming hot... A fantastic trio of bands that are worth the admission on their own and this show was free!