Traveling Circus and Medicine Show — Counting Crows with Michael Franti & Spearhead, Augustana
Uptown Amphitheatre
Aug. 21, 2009
The Deal: The Traveling Circus and Medicine Show — Counting Crows, Michael Franti & Spearhead and Augustana — stopped by Charlotte's Uptown Amphitheatre for a unique night of music. Hopefully, if you went, you knew that it was getting started at 7:30. Adam Duritz posted this on the tour's Web site:
Dear Everyone-Who-Happens-To-Read-This,

I know you're all used to showing up at 8:30 or 9PM for concerts that started at 7. It's understandable. You're there to see YOUR band and you're showing up when you think they're gonna play, right? Well, starting on Thursday July 16th at Marymoor Amphitheatre in Redmond, Washington, that's all going to change.

Ladies and Gentlemen, at 7:15PM, when the curtain goes up on The Saturday Night Rebel Rockers Traveling Circus & Medicine Show, Augustana AND Counting Crows are all going to be walking out onstage together and that show is going to start with EVERY SINGLE ONE OF US onstage singing and playing our brains out. We'll do a few songs together and then it may be Counting Crows that plays the first set alone. I don't know exactly how the shows going to run every night. It'll definitely be different a few days later in Friant, CA when Michael Franti & Spearhead join up. It'll probably be different every night. The only thing I know for sure is that EVERY show on this tour is going to start with EVERYONE onstage together and we're going to all be running on & off stage all night playing on each others songs and playing songs all together and basically just playing whenever we feel like playing. So you get my point, right?

GET HERE ON TIME!

Cuz when the curtain rises…THE CIRCUS BEGINS

ad
So, how did it turn out?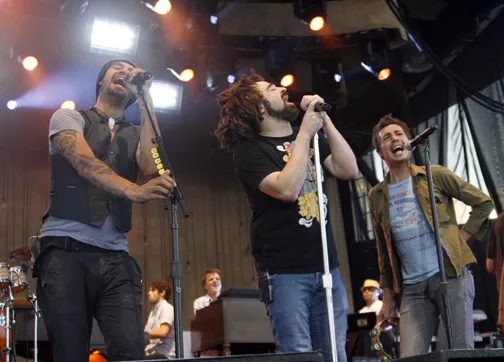 The Good: Just like Duritz said, from the opening of the curtain at 7:30, all of the bands were present on stage and working perfectly together — finding the harmonies or just singing along. Whether it was Franti's "Hello Bonjour," a cover of "Cecilia" or "Delta Lady" or any other song — it worked in every way.
All three groups filled the stage with a total of 18 people on the stage for the first three songs, before Counting Crows performed "Big Yellow Taxi" and "Black and Blue."
All bands came out for a cover of the Peter Josh/Mick Jagger song, "Walk and Don't Look Back," before Franti performed two songs of his own — "Everybody Ona Move" and a solo "I Got Love For You."
A 15-minute intermission after the first hour-and-a-half led way to a handful of Crows songs including, "Time & Time Again," the first three tracks of their recent Sunday Morning album — "Washington Square," "On Almost Any Sunday Morning" and "When I Dream of Michelangelo" — and "Catapult."
There were bits of overlap mixed in, as Duritz noted he was singing on 27 songs that night. Augustana's Dan Layus joined the Crows on harmonica for "Washington Square." During Franti's "Say Hey (I Love You)," kids were invited to join him on stage to sing and dance along. Toward the end of the night, after the Crows played "Mr. Jones," all groups returned for the closing songs of "Why Should You Come When I Call" and "Hangin' Around."
The Bad: There were obviously people who didn't know about the plans for this tour and showed up 45 minutes to an hour after it started and were frustrated and disappointed that they weren't there at the start. (Of course, if you keep tabs on this site, or follow the #charlottemusic Twitter feed — or mine — you'd know to get there on time.) Oh, and "Mr. Jones" is still high up on my personal list of most annoying songs ever... And those kids that were invited up on stage with Franti - I'd say 90 percent were truly kids and the others... I'd say some probably were able to drive themselves to the show.
The Verdict: I wasn't sure what I would think of the different format, but I have to say — it was fantastic. If I want to hear a band sound just like the album, I'll listen to the album. The difference with a live concert is the energy, but also getting to see and hear something that you can't buy on a disc or online.
It's amazing how the bands were able to collaborate all night long. I often wonder why more bands don't do this... For example, Kid Rock and Lynyrd Skynyrd on the road together, but not playing "All Summer Long." Can you imagine if Nine Inch Nails and Jane's Addiction had done something together?