Sunday started out with a quick interview with the bluegrass/Americana trio The Lovell Sisters. Though they're young, the band has been together for five years and built a solid foundation at Merlefest. They performed at This Tent to open the day there.
A.A. Bonday had a folk set in The Other Tent while Cage the Elephant tore up That Tent in what amounted in the first of a number of metal shows there. (The Dillinger Escape Plan, High On Fire, Shadows Fall and Coheed and Cambria played later.)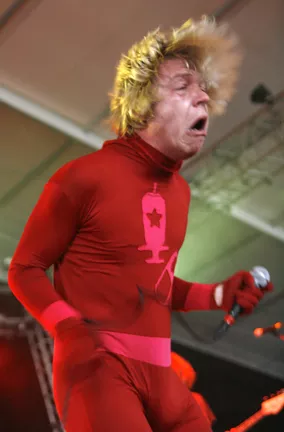 The raw emotion and energy of Cage the Elephant was impressive to watch. Singer Matt Shultz is all over the place - headbutting his bandmates, screaming incessantly (even if the microphone is not up to his mouth...) It's no surprise that this band has a growing buzz around it and the live show is helping to fuel the fire.
The Dillinger Escape Plan was up next and made Cage the Elephant look tame by comparison. The band's heavy metal was hard enough, but every band member, sans drummer, was jumping off of anything they could get their feet on - speakers, drum riser, speaker stacks, etc. It was a thrill to watch from the photo pit, but I think we all feared for our safety after the drummer landed on one of the photographers. (She was ok, just a bump on her head.)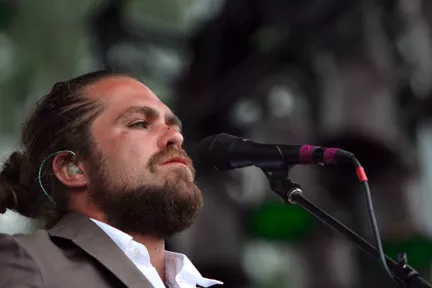 Citizen Cope was on Which Stage. His music is ok, at times repetitive, but I don't know that I could sit through an entire show of his. He doesn't move around much at all - neither does his mouth. It's as if he's simply standing there with his music playing.
Erykah Badu finally got to the main stage around 35 minutes after her scheduled time. The band came out after about 25 minutes and played the same eight bars of music for the next 10. It sounded like a record skipping and even the band was giving each other looks as if to say, "Where the hell is she?" Apparently, Badu is known for being late to every show and I started to wonder why people put up with it. She came out, didn't apologize, but instead started to tell the audience about all of her names and nicknames. Nice ego...
Andrew Bird was over on the Which Stage impressing the crowd with his music and whistling ability. It's so easy to say someone whistled, but this guy does it as if it's an instrument that peacefully accentuates the music.
Okkervil River was in The Other Tent, but a large crowd was gathered next door at This Tent for Merle Haggard.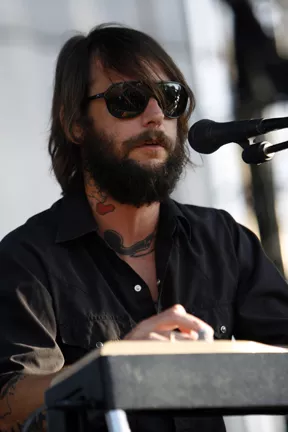 Snoop Dogg started 30 minutes late - and was joined by Badu on stage for a song - but instead I went to check out the sleepy rock of Band of Horses. (They'll be here on Wednesday for a sold-out show.)
Neko Case (the only artist of the weekend to ban all photographers from taking pics in the photo pit) also started late to wrap up This Tent. The day's headliner was Phish to close out the festival and they ended their first set with three songs joined by Bruce Springsteen. By that time, I was already on the road... It had been a long weekend.
Check out next week's Creative Loafing for more on my favorite moments and performances from the weekend including Triumph's interview with Flavor Flav, the final NIN show, which bands are ones I want to hear a lot more of and which I want to avoid forever, and more!
Phish Sunday setlist
Set I
AC/DC Bag
NICU
Gotta Jibboo
Punch You In The Eye
Sparkle
Bathtub Gin
Character Zero
Tweezer >
The Horse >
Silent in the Morning
Run Like An Antelope
Mustang Sally*
Bobby Jean*
Glory Days*
Set II
Rock and Roll >
Light >
46 Days
Limb By Limb
Farmhouse
Backwards Down the Number Line
Prince Caspian
First Tube
Encore
Suzy Greenburg
Tweezer reprise
* With Bruce Springsteen