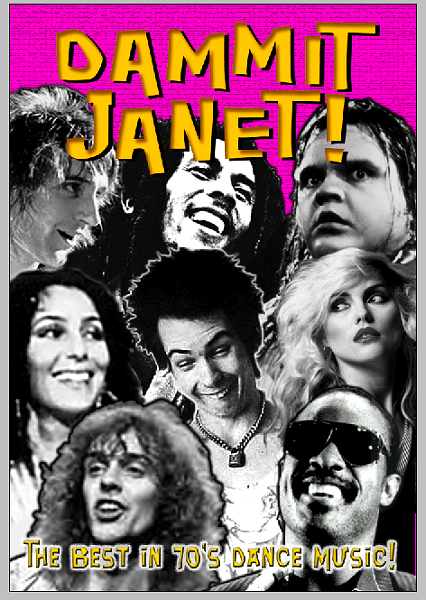 Here are some thoughts on the Thursday night VIP opening party for Dammit Janet!:
1. The space suits the nightclub just fine. While it didn't evoke memories of Studio 54 as rumored (it's strictly Studio NoDa Warehouse), the venue offers a decent-sized bar, an inviting dance floor, and plenty of tables (and even a couple of sofas) where folks can socialize. There's also a large room in the back (closed off last night), which will serve as a concert area for future shows.
2. The music was rockin'. Those of us into classic rock weren't disappointed, although the playlist was hardly '70s-specific. Among the tunes heard were The Beach Boys' "Good Vibrations" (1966) and Prince's "Let's Go Crazy" (1984). Even David Bowie, a '70s icon (and employed in the club's ads in his Ziggy Stardust phase), was repped through two of his 1980s hits, "Under Pressure" (1981) and "Let's Dance" (1983). Similarly, the movie playing on the wall screen wasn't the 1978 zombie classic Dawn of the Dead but rather its 2004 remake. Still, none of this mattered, as the sights and sounds on tap were grade-A choice all the way.
3. I can't vouch for the price of the mixed drinks as neither my girlfriend nor I went that route, but patrons will save a fortune purchasing beer here as opposed to other nightclubs. Domestics cost $1.50, while imports ran $2. Thus, four brews plus tip came out to a wallet-friendly $10.
4. The crowd provided an interesting mix, from younger kids coming to check it out to older folks hoping that the event would stir memories of those long-ago nights partying at the legendary Pterodactyl Club. (Admission: I was one of the latter group, as I frequented that club during my UNCC years back in the second half of the 1980s.)
5. Any complaints? Only one. Those of us who fondly recall dancing to The B-52's "Rock Lobster" back in our high school days recall how you were supposed to slowly go "down, down, down" to the floor as Fred Schneider instructs, only to bounce back up when the music perks up again. Sadly, the DJ inexplicably switched to another song during the second of the two choruses (with about a full two minutes left in the song), leaving one partygoer pitifully squatting on the floor with no cathartic release.