Ramseur Records Showcase
Visulite Theatre
May 22, 2009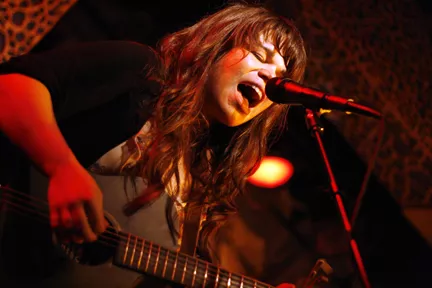 The Deal: Five artists on the Ramseur Records label — Frontier Ruckus, Samantha Crain & The Midnight Shivers, Jim Avett, Paleface, Bombadil — perform showcasing a variety of talent.
The Good: The night opened with a 25-minute set by Frontier Ruckus whose standout instrument was the use of a saw — that's right, a saw like you'd use for cutting wood played with a bow. I've seen it a few times before and it always emits an odd Halloween-y sound. There was a nice balance in harmony between singers Matthew Milia and Anna Burch. The band has its own take on the kind of front-porch Americana that is characteristic of most Ramseur bands.
Samantha Crain & The Midnight Shivers hit the stage next and 22-year-old Crain might be best described as a ball of fire waiting to be unleashed. While she can slow things down and focus on her vocals, there are also moments when she finds an upbeat groove and lets the energy flow with dancing and powerful emotion on songs such as "Get the Fever Out" from her latest CD, Songs in the Night.
Jim Avett may be best known as "the father of The Avett Brothers," but he's also a talented singer/songwriter in his own way. He let the audience know he just got back from California where he was "visiting some guys you may know..." His daughter and sister to The Avetts, Bonnie, was also present to help out on a few songs. Avett performed a handful of songs that were a mix of originals and covers. You can easily tell with his laid-back style that he's only in it for the enjoyment, not for a career.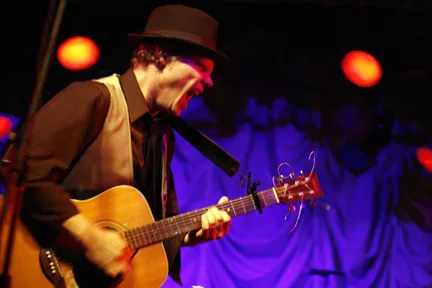 Paleface brought the anti-folk next and a fun attitude for a 45-minute set featuring a number of songs from his Ramseur debut, The Show is on the Road. He and drummer Monica "Mo" Samalot have a great onstage presence and relationship, able to play off of each other vocally. Paleface is one helluva talented songwriter, as well. While he told me after the show he was hesitant to play a slow song after getting a good groove going, it was no surprise that his song, "Traveling from North Carolina," got the crowd to stop and pay attention. Charlotte's lucky to call Paleface one of its own these days.
The Bad: I won't call them bad, but I'll say it was anti-climactic when Bombadil hit the stage. I expected big things because I had heard so much about them, but the band came across as a group of guys that were trying a little too hard to be different. The Durham group plays a kind of jazzy folk with rotating singers. That's not to say I've written them off, but maybe I need to give them another chance after giving the band's disc another spin.
The Verdict: Paleface's set was a definite highlight of the night, with "Traveling from North Carolina" being the stand-out song. I've been a fan of his from the first time I played his 2008 album, A Different Story. Samantha Crain also impressed me with her energetic and upbeat style. Concord's lucky to have Ramseur Records in their town. It's a great source of music for the area, and, hey, look where it got The Avett Brothers.