Malcolm Holcombe The country-fried Holcombe's one of those songwriters you always get your money's worth with, one way or another. A commanding stage presence, he also has the songs to back it up, and a quick wit to quiet the drunks. He plays a sort of Southern gothic version of the diner blues these days, and the result is no less authentic than his early, twangier work. He was signed to Geffen for awhile, but the suits there thought he was a liability and dropped him. In other news, the 10th-place runner-up on American Idol just got a record deal. With Gareth Asher, Jackson County Line. The Evening Muse (Davis)
Vetiver
Tight Knit
, the brand-new – and superb – release from former Greensboro music maker Andy Cabic, is being hailed for the nuanced textures that so suit its title. Cabic and company – including recently departed Vetiverian bassist and Charlottean Brent Dunn – elaborate on the warm acoustic echoes and gentle drones of 2008's
Thing of the Past
covers disc, but you come away here with the same sunny day buzz you get from the gentle stuff on VU's
Loaded
. That's not just high praise, it's freakin' bliss. This excellent triple-bill also features the Sian Alice Group and local two-piece The Houstons.
Snug Harbor
(Schacht)
Peelander-z
While this Japanese action-comic punk band claims to be from the Z-Area of "Planet Peelander," the group was actually formed in N.Y.C. by an animated trio of punk rockers. Peelander Yellow, Blue and Red have since been entertaining the crap out of crowds, not only with their music but with performances guaranteed to be out of this world. With songs like "Steak" and "Go Ape Go," it may not be the deepest music, but watching them do kung-fu moves on stage definitely makes the show worth your while.
The Milestone
(Jill Jacobs)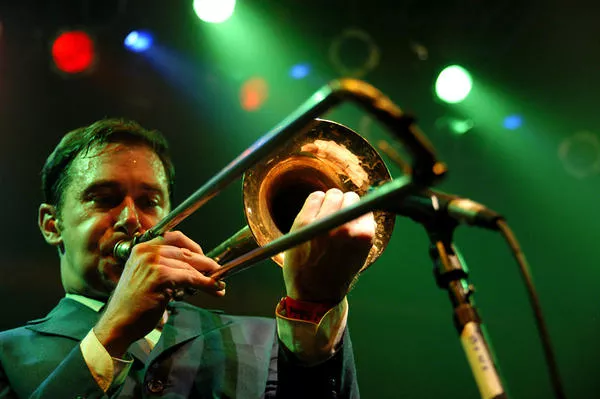 The Slackers
The rock steady riddims, '60s soul, dub, reggae, rural blues and of course ska, marks The Slackers among the finest ska-influenced outfits around. They've been kicking up a horns-fueled dance storm since the early '90s. Of course, there's a touch of itchy punk in the mix, but it's mostly about island vibes with horns and drums and bass rocking steady. Its recent recording
Self Medication
is oh so old-school reggae. With Bums Lie.
Visulite
(Shukla)