Sam Quinn and Japan Ten with Jimmy Brown
Visulite Theatre
March 5, 2009
The Deal: Knoxville-based folk band Sam Quinn and Japan Ten perform show at the Visulite Theatre, along with opening act Jimmy Brown.
The Good: Belfast-native, who now resides in Hickory, N.C., Jimmy Brown (The Belfast Boys) kicked off the show by playing a number of indie/acoustic songs. This included "Day By Day," "Butter Won't Melt," "Yo Yo Heart," and others. During one of his newbie songs, called "Rilke Says," Brown used a looping pedal to add extra elements and cool sounds to the soundscrapes already deep and moving lyrics. Jordan Hardee joined Brown during "Yo Yo Heart" and a few others, playing bass and the drum pedal. Then his sister, Ashlee Hardee (She's local to Charlotte. Keep her on your music radar.) took to the stage, performing a catching duet with Brown. Brown wrapped up his set with a cover of Waterboys' "Fishermans Blues." The bearded Sam Quinn (the everybodyfields) and Japan Ten performed next. Songs were pleasant with lots of calming layers from fiddle, bass, keys and guitars. Quinn happily wore his brown suit (one which he said he's always wanted), and casually joked between the band's folk laden songs. Highlights included when the group did an interesting cover of 4 Non Blondes' "What's Up," and a touching play of the everybody fields' song called "I Can't Sleep."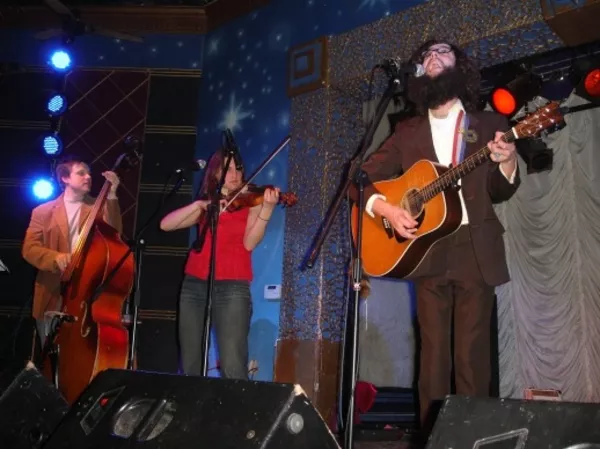 The Bad: Not much. Show ended late, but music was good throughout the night.
The Verdict: Jimmy Brown and Sam Quinn and Japan Ten are both bands to keep on the music radar. Be sure to check em' out the next time they're in town.