Andy Friedman & the Other Failures Friedman moonlights as an illustrator for, among others, The New Yorker, and the skewed view of the world that gig dictates pervades his "citybilly," as some have taken to calling his music. Part of a fertile NYC scene embracing country and blues roots sans Big City Irony, Friedman's cock-eyed narratives certainly resonate beyond most of what passes for serious country music these days. The Other Failures flesh out his recently released sophomore record, Weary Things, with typically twangy accents, and the whole she-bang suggests that putting a smile on the listener's face doesn't mean Friedman's kidding around. With Lowry at the late show. The Evening Muse (John Schacht)
Pontiak
The sludgy, brooding riff-rock this trio of brothers pulled from the loam of their native Virginia farmland was one of 2008's richest surprises.
Sun On Sun
balanced its pummeling-yet-melodic guitars and psychedelic space-scapes just right, infusing the songs with enough menace to suggest you were reverting to something primordial just by listening to them. Now, only six months later, they're dropping another gem on Thrill Jockey,
Maker
, which doesn't change the formula beyond offering more in shorter, more focused bursts. Your humble correspondent doesn't cotton much to the loud stuff anymore, but for this band he's willing to sacrifice what's left of his hearing on its hard-rock altar. With The Kickass and 2013 Wolves.
The Milestone
(Schacht)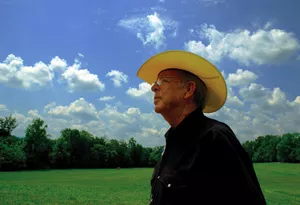 Charlie Louvin
Country, bluegrass and gospel legend Charlie Louvin has been around the bend once or twice, to say the least. Touring in support of his new recording
Sings Murder Ballads and Disaster Songs
, Louvin's voice may be aging but his music remains potent. As half of the Louvin Brothers, Charlie Louvin was hugely influential in the post-war country eras of the '40s and '50s. He went solo in 1963 and today the 81-years-young Louvin may struggle to hit higher notes, but still churns out toetappers. Old school never sounded so good.
The Evening Muse
(Shukla)
George Clinton & Parliament Funkadelic
The Godfather of Funk is back, and really if you aren't familiar with his music it should be a requirement to be at this show. After all, "there ain't no party like a P-Funk party, cause a P-Funk party don't stop." He with the multi-colored coif is currently in a country competition on CMT, but I'm sure he's gonna keep it funky.
Neighborhood Theatre
(Jeff Hahne)