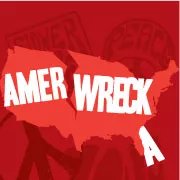 I mean, God bless America, and God bless J.D. Lewis for coming to Charlotte, starting the Actor's Lab and creating the play Amerwrecka that avowed what war is good for... absolutely nothing (cue the Edwin Starr song as used in the play).
The play begins with the historic killing of the four unarmed American students at Kent State University, shot by the National Guard at a peace rally on May 4, 1970. Thirty-five years later, they return to earth on a mission to peacefully shake up the current political climate in the states.
Speaking of war, remember "Operation Shock and Awe"? Well, this play shocks and awes. That, and makes you want to go start a revolution. Like my tickets to RENT indicated in big, bold letters: "ADULT LANGUAGE"... The sign on the door gave a disclaimer for ADULT CONTENT. And boy was there. I'm talking full frontal nudity.
I saw more nudity than in a strip club. And the actress, playing a stripper, proceeded to sit down Indian style on the front of the stage. But it was done artistically, as in not sexual and slutty. But if you are going with someone who may get offended by nudity — say, a close-minded person or a young adult — when you hear the song "Candy Shop," cover their eyes.
The play featured such talent as Cher Ferreya from the television show Veronica Mars, Pam Galle, Kevin Patrick Murphy, and the ubber talented and equally attractive Kellin Watson (who will be performing at the Evening Muse on Feb. 25).
Aside from the play there was a show off stage... The art though out League. It has an elaborate collection of eclectic, abstract and just plain beautiful art both for purchasing and perusing. The Charlotte Art League is such a cultural commodity Historic SouthEnd now has a gallery crawl the first Friday of every month similar to those in NoDa and Plaza Midwood.
Following the play, I went to the reception at Mad Toy Box Films and made the mistake of eating the catered food... with remnants of shellfish in it. Everything's a blur following the Epipen injection.
The remaining showtimes are as follows: Feb. 20, 21, 26, 27 and 28 — all at 8 p.m.
You can purchase tickets here.
Peace... in the Middle East.