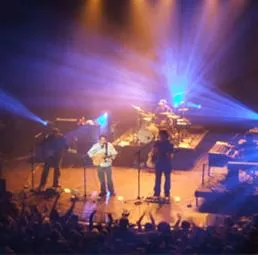 Assembly of Dust Conceived by former Strangefolk frontman Reid Genauer while enrolled in the MBA program at Cornell University (indie cred with the North Face set!), Assembly of Dust can, to these ears, too often sound like a symphony of lint (the latter often gathers in one's navel, and, true to form, you can often find AoD gazing at theirs). Musically, it's fairly harmless (a little Jack Johnson, little Jerry, a little Josh Rouse), but for those looking for either anything hot-shit/cold-blooded might want to look elsewhere for inspiration. However, if it's just a little jam-friendly, gentle V-Day chooglin' you're looking for, things are coming up roses. With Millhouse Band. Visulite Theatre (Davis)
Tiempo Libre
The Miami-based, all-Cuban outfit offers up a high-energy, passionate performance that is sure to get you out of your seats. If you're not on your feet within the first few notes, you better check your pulse. While touring in support of the band's last album,
Arroz Con Mango
, they're also getting ready for the May release of
Bach in Havana
. Latin music inspired by Bach? You have to at least be curious ...
McGlohon Theatre
(Jeff Hahne)