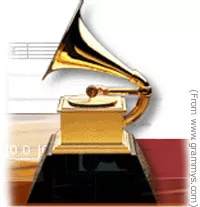 Well, I sure did pick a whole lot of the winners correctly for the Grammys (and I'm including the Latin, Gospel and other categories). I'll have to total it up later... For a complete list of winners, click here. Here are my thoughts on the Grammy Awards broadcast on television:
- U2 kicked off the show. Not a bad song. It sounded a lot like Bob Dylan's "Subterranean Homesick Blues" during the verses. Wasn't the best song I've heard U2 do.
- Jennifer Hudson won the Best R&B Album. Really? She's better than Al Green and Raphael Saadiq? I don't think so...
- Dwayne "The Rock" Johnson came out and did a few bad jokes. Why is he there?
- Justin Timberlake, thanks for telling me what a general store is. I live in a cave and had no idea.
- Al Green with Boyz II Men and Justin Timberlake and Keith Urban on guitar ripped through a version of "Let's Stay Together."
- Coldplay started off with a quick Chris Martin/Jay-Z duet that was pretty interesting. Then they played their hit, "Viva La Vida," and I fell asleep.
- Carrie Underwood came out and rocked her country ass off. Hard to believe she was an Idol.
- Happy to see Sugarland win the Best Country Duo or Group award. Hilarious that Jennifer Nettles randomly thanked Paul McCartney.
- Coldplay won Song of the Year for "Viva La Vida." I'm not surprised, but I think it's funny since there's a plagiarism suit against them for it.
- Kid Rock came out and rocked a medly of songs from his latest album. Funny that his mug shot popped up during the lyrics, "I'm no saint." He's gotten better with age.
- Taylor Swift and Miley Cyrus came out to sing a song about being 15 during your first year of high school. I feel old. Thanks, ladies. And Cyrus is not the best singer - she tries too hard.
- Best pop collaboration went to Alison Krauss and Robert Plant. Really? Pop? Cyrus also looked like an idiot when she pointed at herself before announcing the winner.
- Jennifer Hudson came out and oversang a song. It was emotional at the end, but I'm sorry. I'm still not a fan.
- Jonas Brothers hit the stage with Stevie Wonder for "Burning Up" and Wonder's "Superstition." Stevie definitely helped kick the Jonas song up a notch.
- Blink-182 came out and announced they have reunited and will play music together again.
- Coldplay won the Best Rock Album. Ugh.
- Katy Perry sang "I Kissed a Girl" with fruit all over the stage. I get the phalic banana and cherry references, but what was with all the others?
- Kanye West, and his bad hair, and Estelle came out to sing my winner for "Most Annoying Song of the Year" - "American Boy." I may have trouble hearing the rest of the broadcast, because I started to jab sharp objects in my ears when it started.
- Adele won the Best New Artist award. I'm impressed. She beat the Jonas Brothers... I guess those 15 and under don't do much voting.
- Kenny Chesney sang... meh.
- Krauss and Plant won Record of the Year. I was surprised. Nicely done!
- A very pregnant M.I.A. came out and performed with Jay-Z, T.I., Lil Wayne and Kanye West, who looked like he was trying to take over the whole song.
- Paul McCartney with Dave Grohl performing. Nice to see Grohl on the drums again. Wow - and it's a Beatles song!
- Just saw that Chris Brown and Rhianna are no-shows at the Grammys as Brown is wanted for an assault investigation against Rhianna.
- Best Male Pop Vocal Performance goes to John Mayer for "Say." Kind of expected...
- Sugarland singing "Stay." Nettles has one of the best voices out there today. (I still prefer her old solo, pre-Sugarland stuff though.)
- Adele... she's a very low-key singer. Not very animated... Decent duet with Nettles there at the end.
- Radiohead, complete with a marching band. Nice! These band kids must be freaking out to be playing a) with Radiohead, and b) on the Grammys.
- T.I. and Justin Timberlake. Hmm.... isn't T.I. supposed to be in jail? I liked it... wasn't expecting to.
- I'm diggin' the Four Tops "reunion" with Smokey Robinson, Ne-Yo and Jamie Foxx.
- Neil Diamond decides to kick it old school and sing "Sweet Caroline." Hilarious that the crowd sings along. And T.I. is sitting in his seat with a "What the hell is this?!?" look on his face.
- Tribute... George Carlin (who won for Comedy Album)... Rick Wright... Mitch Mitchell... Eartha Kitt... Miriam Makeba... Levi Stubbs of the Four Tops... Isaac Hayes... Danny Federici... Bo Diddley... (did they mention LeRoi of the Dave Matthews Band?)
- Tribute to Bo Diddley featuring B.B. King, John Mayer, Buddy Guy and Keith Urban... pretty interesting mix of styles and vocals. They could have had one helluva jam, but I thought it ended pretty quickly.
- Lil Wayne with Robin Thicke... interesting combination again. I'm kind of liking all the mix and matching going on tonight though. It keeps you interested instead of hearing the same old crap you hear on the radio every day. I dug the whole New Orleans vibe of the performance.
- It's hat night for Will.i.am and T-Pain.
- Lil Wayne wins Best Rap Album and a whole buncha people go up on stage with him... His teeth scare me.
- Krauss and Plant... I wish they'd sing "Black Dog" like I saw at Bonnaroo. I always want Plant to just let one of his classic rock yelps out... never happens.
- The guys from Green Day look the same as always.
- Album of the Year goes to... Krauss and Plant. Wow! Well, this isn't going to make him want to do a Zepplin reunion...
- Stevie Wonder on his own. Nice way to close it out.