According to Jay-Z, "after the party it's the hotel lobby" ... or, you can just have the party at the hotel bar. Because you don't have to be checked-in to check out the nightlife within hotels.
There's Café Sienna at the Holiday Inn, Chambers in the Crowne Plaza, Champions and Cutter's Cigar Bar in Marriot Center City, Bar 10 at the Westin, Coastal Bar at Hilton Center City and the more appropriately titled Lakefront Lounge at the University Hilton ... and if you're staying at the Days Inn on Woodlawn you can go to the Azteca restaurant for a little fiesta fiesta.
But a new hotel just opened that might house the most eclectically modern bar in Charlotte... the WXYZ at the Aloft — a hotel, as opposed to a loft, located above the EpiCentre.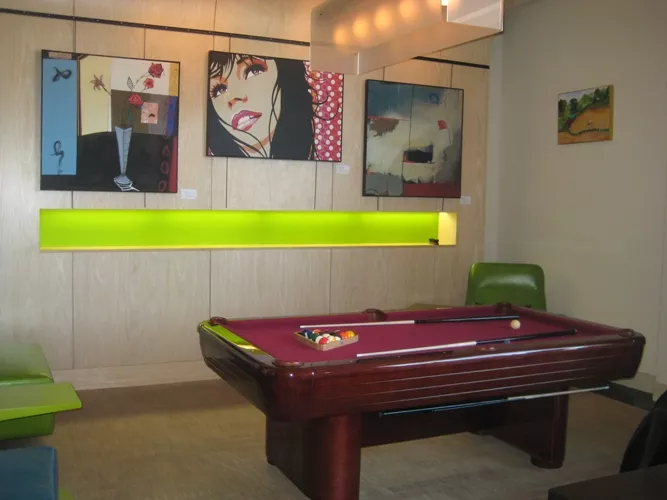 Most hotel bars have a lounge-slash-lobby ambiance, but the décor, not to mention the view, from the aloft bar made me feel like I was on the Jetsons or something. You can get lost lounging in the giant couches or play some pool.
Meanwhile, The Blake is going to hold just about every bar in Charlotte for Bartender's Ball.
Although I do recommend that visitors get out of their hotel rooms to explore and endure Charlotte nightlife, but sometimes it's nice to go to a hotel bar and pretend you're traveling.
And I know all about hotel bars considering I've essentially been living out of hotel rooms for the entire month of January — one of which was in Tulsa, Okla., where there wasn't much to do outside our hotel, the Cherokee Casino. Our idea of going out was going down to The Ice Bar that had more rules than my elementary school classes. You can't take your drink out of the bar and into the casino, you can't order another drink until your glass is completely empty, and the beers are a mere 3.2% alcohol.
But there was no rule against having fun... I played a little Blackjack and had random encounters with the Stewarts... Rod and Tony. I am still trying to figure out if it was the real Rod Stewart or an impersonator, and why Tony Stewart suggested in front of the entire bar that they measure my ass with a mathematic compass. I also went to a full-out Sundance Film Festival party in the Marriot's Legacy Lounge while in Salt Lake City.
Cason Point: There are many fun misadventures to be had in hotels — and although I'm referring to the lounges and bars — you can encompass whatever you want in the nightlife there.