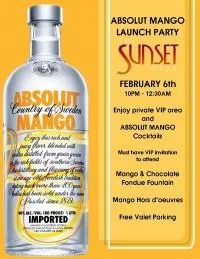 You remember the character Mango from SNL? Yeah, that guy was funny… but he has absolutely nothing to do with what the launch of the new Absolut Mango vodka this Friday night at Sunset Club starting at 10 p.m. Before we know it there is going to be more flavors of vodka than there are ice cream.
I got to try Absolut Mango at Sundance Film Festival where the bartender, who claimed to be a founding member of the Coyotes, mixed it with pomegranate juice and ice tea... and it was absolutely delicious. And if the new mango flavor of vodka isn't enough – they're having a chocolate fountain. More than likely that's where you'll find me.
Well, I have V.I.P tickets for the open bar from 10 p.m. – 12:30 a.m.…. and I want to share them. I have two pair of passes and they go to the first two people to e-mail me at brittney.cason@creativeloafing.com