I woke up Saturday morning on an airplane at JFK airport... another year older.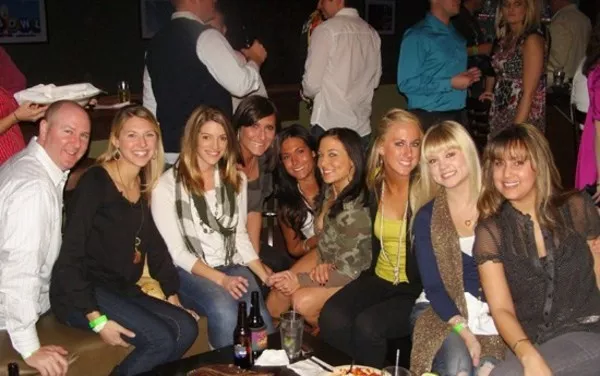 It was my birthday, and as much fun as hanging out in airports on your birthday sounds, I opted to fly the redeye home from Sundance Film Festival... so I could go to Strike City in the EpiCentre's soft (as opposed to hard) opening to celebrate my birthday.
To help you navigate your way through the epic EpiCentre, Strike City is located under Mez and the EpiCentre Theaters.
As soon as I got there and realized that within Strike City is Librettos, a real deal NYC pizzeria, I was pissed at myself for eating the $7.50 Bojangles Surpremes at the Checkers game beforehand. Strike City is not just a bowling alley... it's a place to go to eat, and stay to bowl (and party).
Librettos is open until 4 a.m. and serves authentically urban, down-to-the-water-in-the-recipe N.Y.C. pizza. It might help to alleviate some of the lines at Fuel Pizza where the bouncy ball vending machines steal your quarters... Just thought I'd warn you.
There's more to do in this bowling alley other than bowl. In fact, although I had all intentions to slide a ball or two down the gutter shooting granny-style, I don't think I actually picked up a bowling ball the entire night. But there is a lot of bowling going on — 18 total lanes of it.
But instead of cheesy neon lights and snack bar ads like you see at most bowling alleys, the lanes at Strike City are lined with a disco ball, chandeliers, big screen televisions and monitors that keep score and post alerts like, "Five minutes has elapsed, roll the ball already!" They also have a DJ and a big bar in the middle of the lanes where the shoe rental is in your average bowling alley. But this ain't your average bowling alley, and the venue is well above average.
Strike City is open 7 days a week from 11 a.m. – 2 a.m. thus it's essentially always like midnight bowling.
It's a good place to go with a group of friends… or with your cohorts that are perhaps otherwise boring. Strike City caters to corporate events (two words for you: team building) and private parties. And by private I mean you can not only rent a lane, but an entire room equipped with lanes, pool tables, a lounge area and a bar — the King Pin and Queen City Suites.
I got five tickets to Strike City's official grand opening on Jan.30... and I want to share them with you... Or the first person that e-mails me asking for them at brittney.cason@creativeloafing.com