Keller Williams
Neighborhood Theatre
Jan. 22, 2009
The Deal: Keller Williams brings his one-man-band looping extravaganza to a crowd of more than 700.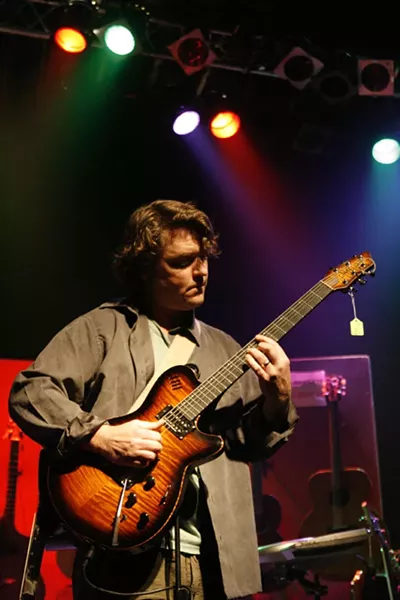 The Good: Williams hit the stage singing a song about porta-johns that definitely fit the theme of the evening — see "The Bad" below. His setlist had a handful of covers thrown in, starting with "For the Love of Money" that rolled right into "Superstition." It's quite hypnotizing to watch Williams work on stage. Standing barefoot with a backdrop that resembled a music store, Williams was constantly switching out guitars or picking up a bass or other noisemaker to layer sound upon sound in what's generally known as looping. The technique offers him the opportunity to create the sound of an entire band. He's an amazingly talented Jack-of-all-trades who can play just about any intsrument you put in front of him. He performed a cover of The Grateful Dead's "Terrapin Station" while sitting at a keyboard. He sang Sublime's "What I Got" while backed only by a loop of drum sounds. He strummed his ass off bluegrass-style during a cover of Nirvana's "All Apologies" and only used a bass for Steely Dan's "Rikki Don't Lose That Number." A definite highlight of his own material was "Above the Thunder." His encore was a mostly instrumental version of Talking Heads' "Burning Down the House." All in all, it was an energetic, entertaining three hours of music.
The Bad: The only bad quality of the night was the fact a sewer line broke and the venue's bathrooms were out of commission. The good part is they did the best they could and had an array of porta-johns just outside.
The Verdict: Having seen him with his band the WMD's and as a solo act, I think they're both equally good, but his solo act is more entertaining to watch.