Tea Leaf Green (setlist at end of review) w/ Elmwood Band
Neighborhood Theatre
Jan. 17, 2009
The Deal: San Francisco quartet rocks the night away.
The Good: The set opened with Elmwood Band — who appear to be from all over the Southeast — and sound a hell of a lot like Dave Matthews. They site them as a major influence, and it's no surprise as singer/guitarist Rusty Kelly has adopted many of his dancing moves and mannerisms. Not to say the band didn't get the crowd up and moving. The band's instrumentation was impressive to say the least — from the sax to drums to bass, they all had a moment to solo and shine.
Now to Tea Leaf Green. The band has picked up some of the remnants of the former Phish jamming scene as the band relies heavily on guitar and piano to dive into jams and songs that don't follow a traditional format. A la The Grateful Dead, the band played two sets and a two-song encore. They bring in more of a straight rock sound rather than the typical nooding. The band also brings in an appealing light show that adds to the ambiance. They definitely take some hints from the jam bands as well as some '70s rock and jazz influences.
I was impressed that the venue had a decent crowd in attendance — more than half-full, I'd estimate — and a good number from out of town. I heard people mentioning they were from Boone, Asheville and Wilmington — only coming in to see the show.
The Bad: No real complaints.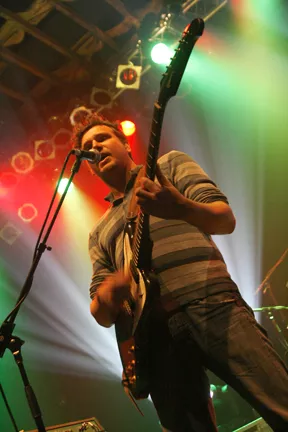 The Verdict: A great night of good music. It's definitely more difficult to follow along to music you aren't familiar with, but Tea Leaf Green draws you in the best they can.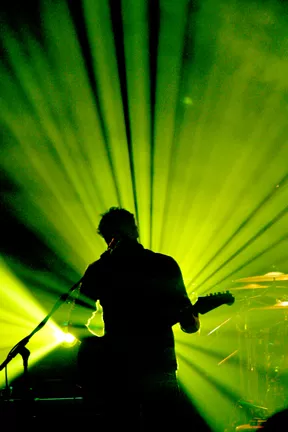 Tea Leaf Green Setlist
The Garden (Part III)
Rapture
5000 Acres
Cops Took My Weed
I'm Not Fit
Baseball
Arise
7th Story
Hanging from a Tree
Precious Stone
Innocence
II
Lil Hood
Borrowed Time
Drink of Streams
Monsters at the Gate
Ocean View
Georgie P
Moonshine
Jezebel
Unforgiven
These Two Chairs
Encore
Me and My Monkey
Morning Sun