The Avett Brothers w/ Auld Lang Syne and Jason Webley
Belk Theatre
Dec. 30, 2008
The Deal: The Avett Brothers return to Charlotte for the first night in a sold-out, two-night New Year's Eve stand.
The Good: Auld Lang Syne warmed up the crowd as the first opener and were a little mellow in comparison with what was to come. Jason Webley was up next and got his feet stomping, the crowd involved and screamed his heart out. Even though he broke a guitar string, the show went on and he did his best to bring some energy out in the theatre.
You could tell the crowd was excited for The Avetts before they even hit the stage. There was an energy of anticipation for the whole night, and when the first notes finally rang out, the crowd broke into a frenzy and sang along with every word. While you may have thought it was full-on crowd participation for the opening song, it was en masse for "Paranoia," the second song of the night.
The Avett's sister, Bonnie, came out to sing "Swept Away" and gave a nice female, family harmony to the song.
Paleface and Mo made an appearance for three of the songs, including the first encore song. People who were yelling out for "Salvation Song" all night were rewarded at the end of the encore as Bonnie returned to join in with the band. It always amazes me that the band is able to keep up that energy each and every time I see them...but that's probably why their following continues to grow. Foot stomping, screaming, strumming — it's always one hell of a live show to witness.
The Bad: The speakers went out for about a song-and-a-half on the left side of the stage in the middle of The Avetts' set, but that's my only complaint.
The Verdict: A fantastic show giving everyone a good idea of why the band has signed with American Records and caught the eye of Rick Rubin. If you aren't going tonight, I recommend seeing them when they open for Dave Matthews Band in the spring.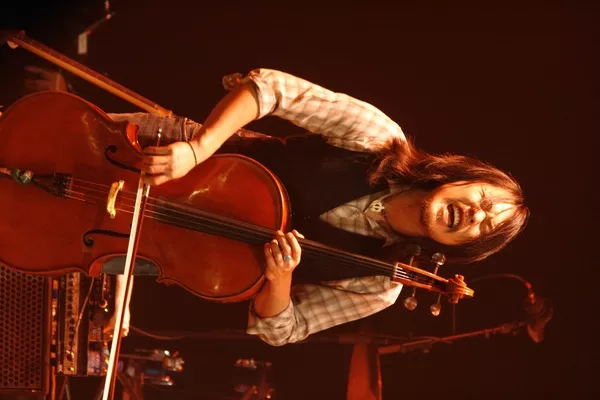 Setlist
LOL,LOL
Paranoia
Weight Of Lies
At the Beach
Swept Away (with Bonnie Avett)
More of You
Wanted Man
Shame
Salina
I & Love & You
Will You Return
Highway Kind (Townes Van Zandt cover)
Distraction#74
Solomon
Standing With You
Dancing Daze (with Paleface & Mo)
Go To Sleep (with Paleface & Mo)
Encore
Colorshow (with Paleface & Mo)
The Lowering
Kick Drum Heart
Salvation Song (with Bonnie Avett)