The first time I ever visited Charlotte, I had lunch at Groucho's Deli and felt like I had consumed street meat or something, and for the rest of the day I wore its lingering smell, that's worse than that of Subway, like perfume. Well, Groucho' is gone and I am not grouchy about it — because that means a good venue can take over that prime location. Cason-Point: NIX Burgers and Brew.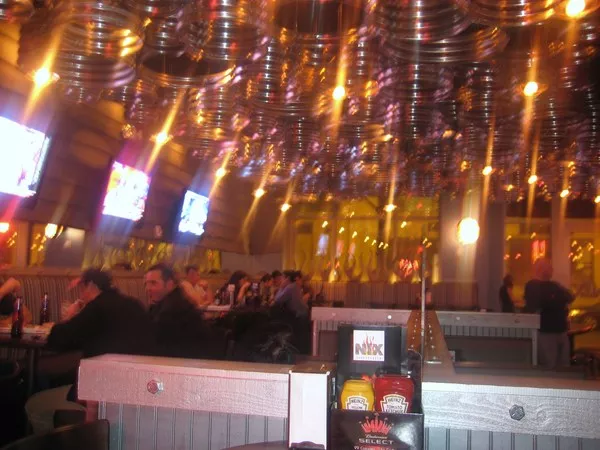 If the kegs hanging from the ceiling are an indicator, they have a great draft selection — such as Winter's Bourbon Cask Ale, a seasonal beer (the one with the snowman) that has Madagascar vanilla beans in it and it taste like candy beer.
Speaking of Madagascar – in the animated flick doesn't the giraffe Melman, whose voiceover is done by David Schwimmer...really look like David Schwimmer? It's weird.
As for their burgers, it's like a bar as well — you can chose your animal: cow, turkey or bison and they have toppings from guacamole to fried egg. And their burgers are so big even their sliders were the size of my head.
Because the food at NIX is so good you'll want to all but lick your plate, it's is a good place to go for burger and brew, not so much dinner and drinks. I don't necessarily recommend this place for a pre-party meal — it's a burger bar, not a tapas bar. After consuming what felt like an entire cow, I attempted to go salsa dancing at Cosmos in a food coma. And I felt like a cow on the maximum capacity filled dance floor. But I'm sure the crowd that packed the place before the AC/DC concert can concur, it's a good place to hit before a concert or show where you can sit down and rub your belly. But it's also open for lunch.
NIX is somewhat reminiscent of Big Daddy's in Dilworth – but it's more of an upscale and uptown diner with a more plush and modern garage ambiance. But it still that makes you want to "ride your motorcycle up to the bar and have a greasy burger," as someone said.