John Legend w/ Raphael Saadiq
Ovens Auditorium
Dec. 12, 2008
The Deal: John Legend brings along Raphael Saadiq to Charlotte for great night of music.
The Good: Raphael Saadiq was simply fantastic. He brings that old-style sound from the '50s and '60s that makes it difficult to sit in your seat - though most in the crowd still remained seated. At one point, Saadiq stripped off his jacket, tie and shirt expecting people to get up and the women to go crazy, but told the quiet crowd, "Obviously, you ain't ready, Charlotte" and put his shirt back on. Saadiq danced and strutted around the stage and got into the groove. He was the perfect opener for John Legend, who spent most of his set singing at the front of the stage, and not behind the piano where I expected him.
There were plenty of screams for Legend who found the time to bring up a woman from the audience for a "Slow Dance." He consistently told the crowd to get out of their seats, at one point saying, "You may as well stay standing cause we're gonna keep the party going." He hit the stage in a tuxedo for the encore before singing "Ordinary People" and "If You're Out There," with a brief introduction and video about his Show Me Campaign. All of Legend's material fit in well with each other, but he seemed to be most comfortable and his talent shined when he was behind the piano.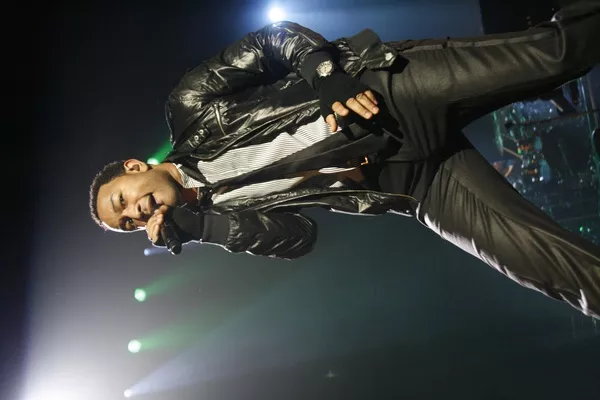 The Bad: Legend had almost a bit of a Michael Jackson vibe going on with a leather jacket, sunglasses, fingerless gloves and black pants. At times his motions seemed a little forced, bordering on cheesy, as he pointed a finger atand threw his hands out towards the crowd, but all-in-all it was a great performance.
The Verdict: Saadiq didn't necessarily steal the show, but he left me wanting to hear more. Legend sounded great — a solid two-hour set of music that left me satisfied.
John Legend Setlist
Used to Love You
Satisfaction
It's Over
Alright
Heaven Only Knows
Stereo
Quickly
Let's Get Lifted
She Don't Have to Know
Another Again
Computer Love
Good Morning
Heaven Must Be Like This
No Other Love
Slow Dance
PDA
Stay With You
Still Number 1
Save Room
I Can Change
Everybody Knows
Medley
Green Light
Encore
Ordinary People
If You're Out There