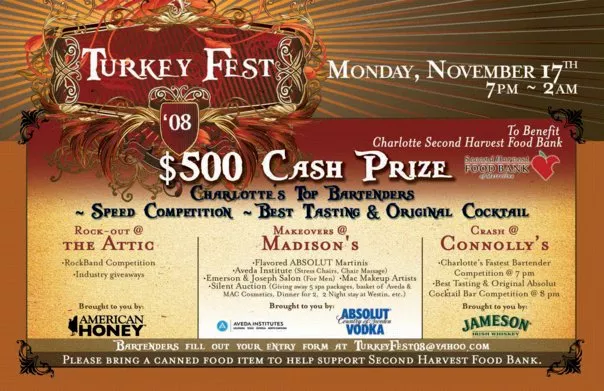 I am giving away 2 V.I.P vouchers for Turkey Fest TONIGHT that will not only grant you V.I.P admittance, but six free cocktails. HOLLA!
The drunken fest, I mean Turkey Fest, is tonight on 5th Street's own trifecta — the Attic, Madison's and Connelly's.
Although it might be a drunken fest for me as I have to judge the bartender's competition at Connelly's along with Carolina Panther Gary Gibson, Brotha' Fred and my partner in "paid to party" crime, Sarah Aarthun.
Turkey Fest will also feature a "Rock Band" competition at The Attic, makeovers at Madison's courtesy of the Aveda Institute and MAC.
All of the proceeds from the event go to the Second Harvest Food Bank and the cover charge is merely a canned food item.
Good times for a good cause!
The first person to e-mail me at brittney.cason@creativeloafing.com and tell me which "So You Think You Can Dance" star I want to pinch, wins! Don't worry, I didn't actually pinch her.