The Black Crowes
Neighborhood Theatre
Nov. 7, 2008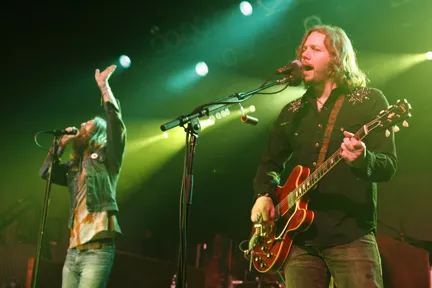 The Deal: The Black Crowes play second of two sold-out nights at NoDa venue.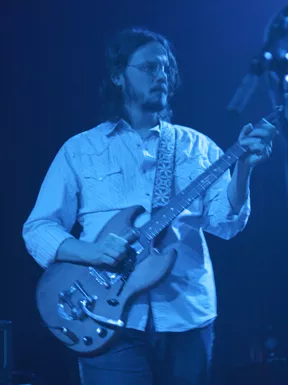 The Good: Right off the bat, I'd say one of the best things is the addition of Luther Dickinson as guitarist. He adds a great bit of Southern style to the music — yep, more than already was there. His finger-picking riffs and stellar solos were the highlight of a two-hour set.
Maybe it's the strain from band in-fighting or from his highly-publicized divorce, but, to put it mildly, singer Chris Robinson looks like hell. His voice however, was fantastic. He smiled and danced around the stage and appeared to be having an absolute blast as the band went through more than two hours of music.
The band went into an extended jam after "Downtown Money Waster" that had Rich Robinson and Dickinson trading off solos. It then rolled into a 15-minute version of "Thorn In My Pride" which included a drum solo and plenty of Chris' harmonica work.
The Bad: The often-strained relationship between the brothers Robinson is good enough for the two to tour, but they had little interaction on stage. Usually when Chris was smiling, it was from watching the solos of Dickinson. The often out-spoken Robinson didn't say much on stage other than a sporadic "Thank you" or his opening line of "Welcome to your Friday night rock show." There may be no smoking in the Theatre, but the band had enough incense and sage going to form a constant cloud billowing from the front. Selling out a show is great, but not being able to move freely/being stuck in one spot for the duration of the show, isn't always fun.
The Verdict: When things are going well amongst members, the band is at the top of its game. Dickinson is a welcome addition. One of the best shows I've seen this year.
Setlist
Wounded Bird
Black Moon Creeping
Walk Believer Walk
Dirty Hair Halo
Seeing Things
Whoa Mule
Poor Elijah - Tribute To Johnson (Medley)
Everybody Knows This Is Nowhere
There's Gold In Them Hills
Stoned Faces Don't Lie
God's Got It
Downtown Money Waster>
Jam>
Thorn In My Pride
Sting Me
Remedy
Encore
Let's Go Get Stoned