Nicole Atkins & The Sea, Salt & Samovar, Raised by Wolves
Neighborhood Theatre
Nov. 8, 2008
The Deal: Former Charlotte resident returns to the Q.C.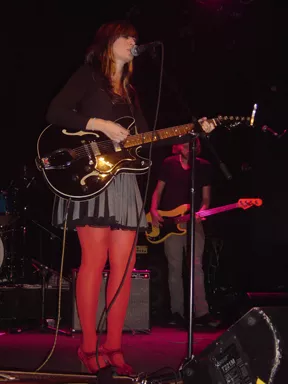 The Good: Charlotte's Raised By Wolves kicked off the night with a great set of mellow rock — think My Morning Jacket, followed by the alt-folk(?) of Brooklyn's Salt & Samovar. Atkins took to the stage and simply shined. Her vocals sounded fantastic, the music was tight and you could tell she was relaxed in front of a "hometown" crowd. Her last gig in town was at Snug Harbor, so it was nice to see her try and play a larger venue. Most of her set came from her debut disc, but she did end the evening with a respectable cover of The Doors' "Crystal Ship."
The Bad: Those in attendance sat in the seats for the two opening acts. It wasn't until Atkins hit the stage and told people to get up that they actually moved their asses, and their feet. Salt & Samovar did little to win me over at the start — the harmonies were off, for example — but definitely warmed up as the band's set went on. The larger stage seemed to swallow Atkins, but even with a small crowd, it was no kind of deterrent as Atkins showed why a major label came-a-calling.
The Verdict: A good show — you can easily tell that Charlotte is still home to Atkins and she has a good fanbase in the city.