The first concert I ever went to in my life was New Kids on the Block and Tiffany. For my ninth birthday my mom got me front-row tickets and a Joey McIntyre t-shirt — that I of course wore to the concert. But all I really remember is the older, teenager sitting next to me that fainted on me because Donnie made eye contact with her. 17 years later, I found myself attending a NKOTB concert ... and girls are still fainting.
I went to their concert last night at Time Warner Cable Arena to be nostalgic, but quickly learned that's hard to do when you don't remember most of the songs. I felt like my row was the only ones that didn't know the lyrics. The arena was packed from the floor to the upper level with women my age or older wearing buttons, t-shirts that read "Property of Donnie," holding posters and singing along. And I thought I was obsessed! I grew out of my Joey shirt, replaced my posters with Jewel ones, and retired my twin NKOTB bed set that I had on my bunk bed.
I couldn't help but wonder — Where did all these New Kids on the Block fans come from?
There were so many girls there, the men's restrooms were converted into lady's rooms.
Perhaps the New Kids should consider changing their name to the Old Kids on the Block seeing as how they were in Charlotte 15 years ago. Although, I was impressed with the boy's stamina. They're pushing 40 and still hitting the high notes like they did as teenagers and dancing around stage and pulling off their shirts like they did in their prime. Although Donnie did do a hip thrusting thing that made me hope he didn't do that when I was a little girl. Wait… are The New Kids on the Block responsible for me about the birds and the bees? …perhaps.
It was '90s night at the Arena last night ... but I'm not sure if it was due to the fact it was Halloween – or because I wasn't the only one being nostalgic. I felt like I should have crimped my hair, worn it in a side pony tail and worn slap bracelets.
Well, the special effects have come a long way since the '90s. They had a light show, elevating stages, and a revolving circular stage in the middle of the floor. But they still sat on stools in their white sweat suits and had back up dancers wearing spandex... I didn't realize how cheesy the '90s were.
They saved the only songs I remembered until the end: "Step By Step" and "Hangin' Tough." For "Step by Step" I tried to break out into their choreography that I had memorized as an adolescent. I got so into it I almost lost my balance and tumbled down the arena stairs (no, I was not drinking). And when they sang "Hangin' Tough" everyone's arms in the arena were waving back and forth.
Donnie made a good point... "If your man brought you here tonight, you know what you gotta do for him when you get home."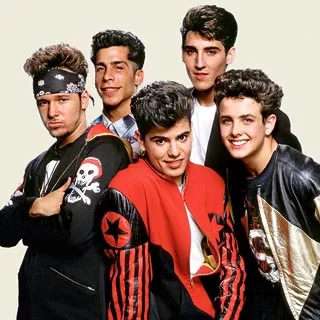 The Verdict: Joey and Jordan are still hot (Jordan kind of looks like Robin Thicke might I add). That, and boy bands really can make a come back. The New Kids on the Block are still hanging tough
We started a rumor that the New Kids were going to Buckhead for Johnny Bananas from MTV Real World Key West – but apparently he had just as many groupies.