I am in a New York state of mind...Perhaps because I am sitting on a Jet Blue flight relishing in the fact I didn't have to pay to check my luggage and enjoying my free soda and snacks.
I was up in NYC for an interview on MAXIM Radio on Sirius Satellite for the Stretch show.
I was asked questions by both the host Stretch and callers like...
• "What's your favorite thing about NASCAR?" (the beer)
• "Do you come from a long line of rednecks?" (not really - just Southern)
• "Is NASCAR run by a bunch of Bible-beating Hippies?" (I didn't realize hippies beat Bibles… I thought they just smoked pot).
• "Are women more conniving to men or to each other?" (each other)
• "You do realize Owen Wilson was reading your column because he wanted to get into your pants?" (no comment - literally)
• "If you cheated in high school would you ever cheat on your boyfriend?" (absolutely not)
• "Not even with Owen Wilson?" (hell no)
• "What is there to do in Charlotte?"... A LOT!
They couldn't get me to shut the front door after that.
While I was up in the Big Apple, I took a pole-dancing class, wandered through street fairs and retail stores and went to a Broadway play (that had a 1800s choreographed sex scene may I add). I ate brunch, authentic Indian and pizza at 3 a.m. I went to a club, a lounge, a dive, a hole in the wall, a party with cute caterers, a coffee shop that served alcohol and a sports bar (a Redskins bar where ladies drank free in the fourth quarter). Cason-Point: I can pretty much do all of that in Charlotte as well. Thus so can you.
We've got B-Risque Fitness, Blumenthal Performing Arts Center, Festivals, late night pizza and different neighborhoods with bars of every genre. We might not be able to go to the Central Park Zoo to look at the penguins — Charlotte doesn't have penguins (or a Redskins bar) to my knowledge. But Freedom Park did just get a swan.
And while walking through Union Square I saw a band of Amish singing and dancing on the same platform as a Breaker dressed like Boogaloo Shrimp in Breakin...that's not exactly something you see everyday on Tryon.
Who cares if the bagels are better and there's a bar on every corner no matter where you are in the city in NYC? The weather's better down south, commuting isn't a production, the city's cleaner and there are plenty of bars to choose from...and drinks are cheaper anyhow. After a week, I was so excited to migrate back down South I almost kicked the heels of my brand new boots from a boutique in SoHo together and chanted "there's no place like home." But this Jet Blue flight will suffice.
As a small town girl that lived in NYC, I can say that Charlotte is the perfect median of a small town and a big city. It's small enough to see familiar faces, but big enough to see meet new ones. There's plenty to do in our big town, little city — new venues keep sprouting up like weeds, and the city is growing like a toddler. I've been exploring the nightlife for two years and I keep finding new nightlife and culture in the Q.C.
When I was asked, "When are you moving back to NYC?" I responded, "Not as long as I live in Charlotte."
But there is one thing: I have yet to find a good Indian restaurant... anyone know where a good one is they can recommend? And may I recommend sports bars letting women drink for free in the fourth quarter.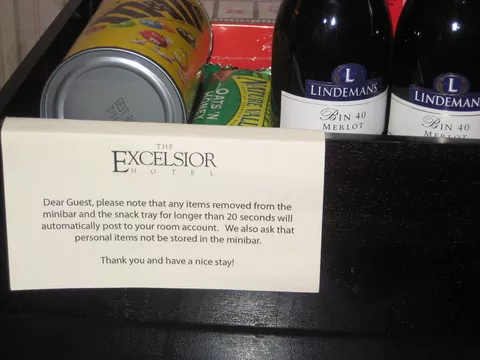 Meanwhile, this is just hilarious...This is the sign on the mini bar at the Excelsior Hotel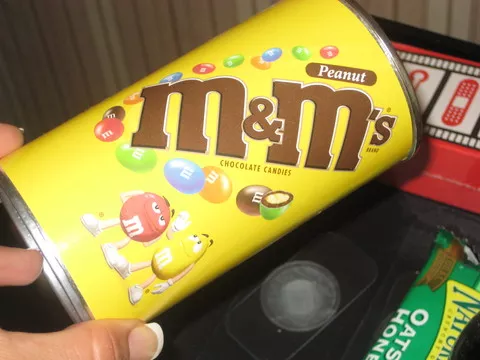 And they do not play.