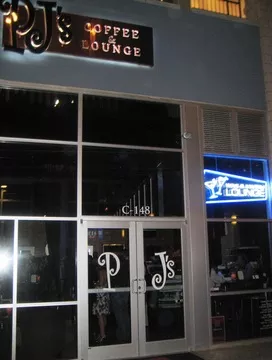 Tonight is the Grand Opening of PJ's Coffee & Lounge.
To me PJ's is the acronym for pajamas, but to Charlotte it's the newest edition to the EpiCentre following the recent opening of Fleming's Steakhouse.
(Speaking of Fleming's – PJ's is a little hard to find within the epic EpiCentre, so in order to help navigate your nightlife, I'll go ahead an specify that it's behind Fleming's on the first floor).
PJ's Coffee & Lounge is a place to go to wake up, chill out, and wine down – at least according to them. For someone can appreciate a coffee shop as much as a lounge, I went to check out this curious combination last night.
But the bar wasn't so much combined as it was divided – half a coffee bar equip with a glass case of muffins and scones, and then the other half a wine stocked bar. Imagine if Starbucks and Press, Dolce Vita and Smelly Cat in NoDa, or even the two Dean& Deluca in Phillip's Place were to have a merger….kinda like that.
PJ's Coffee & Lounge has coffee tables and couches for lounging (and reading) as well as dining tables for eating (and typing). They serve New Orleans coffee and a Naw'lens themed menu including Muffalettas (my Louisiana breed mother's favorite food).
They emphasize an urban-chic and sophisticated atmosphere for which they create with International and Neo Lounge beats, in addition to live acoustics including Judson on Saturday nights. Judson is essentially a Dave Matthews cover band, yet if you close your eyes, you'll think you're at a Jack Johnson concert.
PJ's is a place I'd go take my computer to caffeinate in the afternoon to write (and utilize their free Wi-Fi) and have a book club meeting with wine. It's a good place to go before going out, or to go out on a laid back night – just depends if you're in the mood to wake up, chill out or wine down.
For more photos, go here.