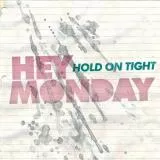 Hey Monday
Hold On Tight
Columbia Records & Decaydance Records; Release date: Oct. 7, 2008
The Deal: The power pop Florida-based quintet Hey Monday releases its debut album Hold On Tight.
The Good: Hyper-fledged power pop dominates this album from start to finish. Starting off with "Set Off" the band lays out friendly hooks, resembling those of musical stars Paramore and Avril Lavigne. In addition Hold On Tight is sure to appeal to teenage listeners. With songs ("Arizona," "Hurricane Streets") about hitting the highway and not knowing where to go, the group offers lyrical optimism. The band's first single "Homecoming" is cheerful, but serious with racing rock and a catchy chorus line. But this isn't the only song of that nature. Most of the album's songs like "How You Love Me Now," "Obvious," "Run, Don't Walk," are full of fast, jumpy rock-edged rhythms. Exceptions include the ballad "Candles" with a slower piano start and "6 Months" an acoustic track about love.
The Bad: Every now and then I thought Hey Monday should slow its music down. This is one of the only elements that sets the band apart from other pop rockers like Avril Lavigne. At times the steadfast rockin' in Hey Monday's music made it difficult to focus in on Pope's vocal skills.
The Verdict: Check it out if you like power pop. The album won't blow your mind, but it sure is jumpin'. After a couple listens you'll start hearing what might be future radio hits and song hooks will pull you into the music.