Would you like some cheese with that wine?
How about some wine with your Friday instead — leaving you nothing to whine about.
ELEVATE Magazine's Wineday Wednesdays have been moved to Fridays, giving SouthPark the happiest of happy hours to conclude the work week.
The Village at SouthPark (which is essentially the M5 and Cracker Barrel parking lot) transforms into a makeshift vineyard from 5:30 p.m. – 7:30 p.m. on Fridays.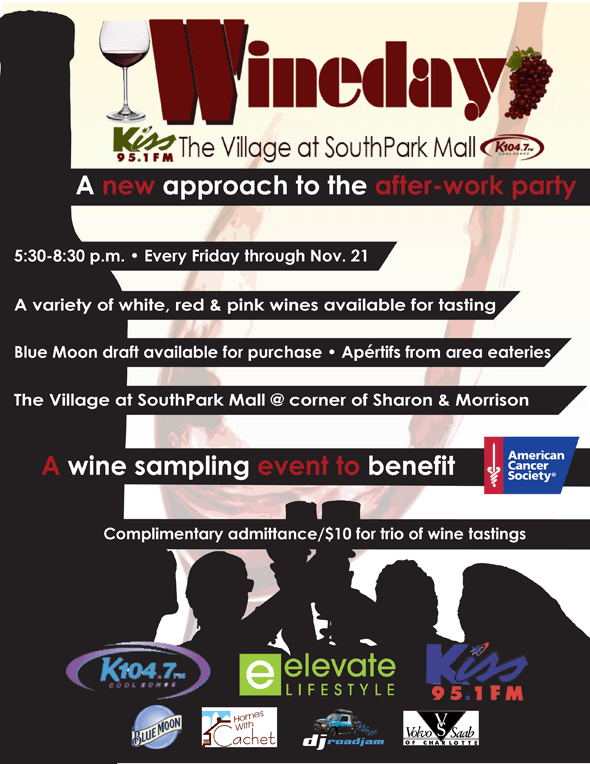 For $10 you get three tickets to sample an array of wines, which alternate each week. Meanwhile, The Grape within the Village premises sells whatever selection of wine is being sampled for a mere $5.
Wineday Fridays is pretty much an extension of the popular M5 patio as the bulk of the conversing and congregating is around the Village's fountain on the lawn between M5 and The Counter.
Speaking of M5, while I was sipping my sampled wine, a hostess hotty approached me to give me a card for a "Free Conversation Starter at M5"…. which makes me want to go have a conversation with whoever is in charge of their marketing.
Besides, who wants to have a conversation when you can jam outside to the DJ provided by Kiss 95.1 and K104.7?
Meanwhile, for the beer connoisseurs they also serve Blue Moon on tap, including Honey Blue Moon.
And just when you thought happy hour couldn't get any happier….. a portion of the proceeds from Wineday Fridays benefit the American Cancer Society.