Celtic Crossroads
McGlohon Theatre
Sept. 27, 2008
The Deal: The septet of Irish musicians known as Celtic Crossroads brought its ultimate combo of musical genres including Celtic folk rock, bluegrass and gypsy-styled song crafts to Charlotte for a performance at McGlohon Theatre.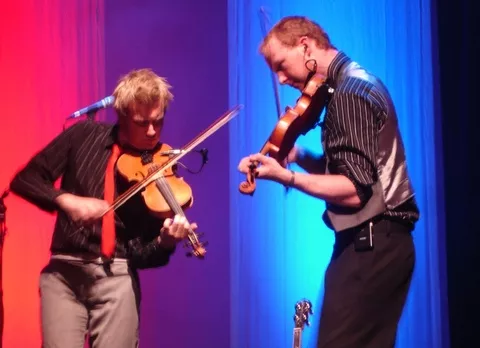 The Good: Each member of this group could play multiple instruments and they did throughout the show. Instruments like the harp, guitar, flute, whistles, violin, banjo, accordion, bass and drums were combined for a number of Irish dance tunes. They sometimes started off slow and calm, but worked up to fast and spastic foot stomping thrills. The band explained that the idea for the show came from a tradition in Ireland of meeting at the crossroads between towns to play music. But at this show it wasn't all Irish songs, as the band also declared its gypsy-styled ditties. Band member Lisa King played a variety of instruments during the set, but she also sung songs like "Ned of the Hill" and "Crooked Jack." Her voice was pleasant, on key and fit well with the eclectic blend of music. The band played what they called "local tunes," being tunes known from the pre-American Civil War era. This included a fast-paced, multi-instrumental version of Cotton-Eyed Joe. During the set two dancers also emerged on stage from time to time for a tapping frenzy.
The Bad: Not much. The show was unique and just not something you get the chance to see or hear every day.
The Verdict: If the band comes back to Charlotte, go see them. Hell, they've got more shows planned around NC, so if you're bold enough then hop in your car and head over to one of those. Celtic Crossroads consists of talented musicians who aren't scared to throw technique in with high energy for what comes out as a moving performance. For more information on Celtic Crossroads, click here.