Can someone please explain to me why Oktoberfest is in September?
Is it because October can't handle Oktoberfest and Halloween, so it had to spread out the holidays?
Whatever the reason, this weekend I was really excited about the fact that I was within walking distance to Memorial Stadium … not only did I not have any gas, but I dared not drive to 10th annual Charlotte Oktoberfest, which was kinda like a tour through Willy Wonka's factory… or brewery should I say. And getting in was like finding a golden ticket because the event sold out faster than a New Kids on the Block concert when the boy band was in their prime. Speaking of which, they're coming to the Time Cable Warner Arena Oct.30, and I kinda want to go for some reason.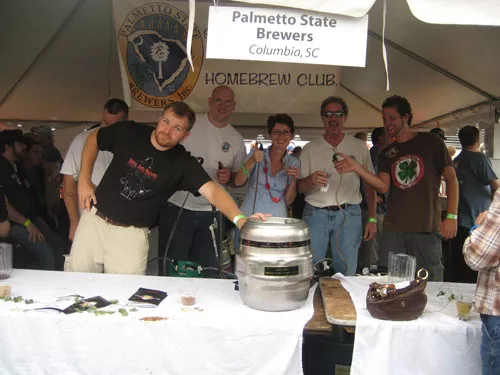 Oktoberfest was set up like a convention ... with beer. You get a shot-glass-sized beer glass to use for sampling the array of brews at the different brewery booths.
There were 30 breweries from the Carolinas alone, and then 40 breweries from other states, in addition to 39 International brewery booths (most of them from Belgium).
Do the math (cause I suck at it) ... that's a lot of breweries.
But there was also a water cooler on the 20 yard line… to rehydrate, clean your glass, and perhaps have a conversation like you'd have at the office water cooler.
Meanwhile people were wearing pretzel necklaces (as opposed to candy necklaces) which made for a nice little on-the-go bar snack accessory.
I sampled Heineken Light, Ginger Beer and Bitter Chocolate from Palmetto State Breweries. Starr Hill's "The Love," which was like a banana beer, Dogfish Head coffee-infused caffeinated beer that was brewed onsite and fresh like coffee, Carolina Blonde's Red, Wheat and Blue that smelled like a blueberry muffin, Anheuser-Busch's new Budweiser American Ale and… Oh, I can't even remember….
Note: chocolate beers are heavy as hell and taste like chocolate before they put the sugar in it.
My vote for the best brew goes to Saranac's Pomegranate Wheat. It was light and fruity…. I left Oktoberfest feeling not only full from sampling the darker beers and with a case of the wobblies, but like a connoisseur – of beer.
You know, you can actually become an official beer connoisseur by taking an on-line class and getting a certificate… here.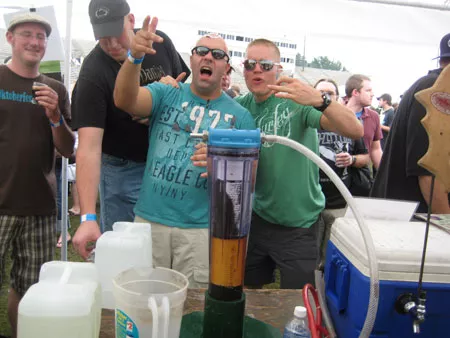 Meanwhile, Southern Culture on the Skids, Sons of Ralph, U-Phonik, and the Polka Dots serenaded all those sipping on the silly serum, and the 2008 Beer'lympics went down at the Creative Loafing tent. People with severely impaired motor skills played Cornhole, Beer Pong, Plinko, Ladder Golf, and a Keg Toss.
Oktoberfest was more than just a drunken fest — proceeds benefited a Child's Place and the National MS Society. http://www.nationalmssociety.org/index.aspx And as an ambassador for the Charlotte chapter of the MS Society and active member as per my sister who suffers from the disease, I'd like to thank all those who came out and got drunk for a good cause!
Oktoberfest's after party was at Plan B where you could exchange your wrist band in for a free Bratwurst.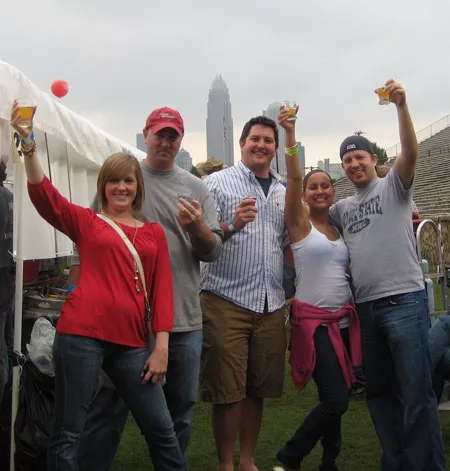 But you know what makes beer taste better? Anheuser Busch's Chill Chamber.
It's so cold only special aluminum bottles can be stored in it. It's set to 22 degrees, which would freeze water or regular beer. I discovered the magical refrigerator in their suite at the Panthers' home game, but found out the only venues that have a Chill Chamber are the Fox and the Hounds and Hooters throughout Charlotte. (Note: you have to make a special request for a beer out of the Chill Chamber).
Speaking of Hooters, I went there after the Panthers' game….
Tune back in later this week for tales from Uptown's new breast-eraunt.