In case you didn't know, there's a lot more to do at the U.S. National Whitewater Center than raft and watch the Olympic trials. Aside from rock climbing, mountain biking and the ropes course.… you can also party!
Every Thursday is their Subaru River Jam, which is like Alive After Five for the outdoorsy types. In addition, to their adventurous attractions they have Cornhole tournaments, a patio bar and live bands.
Check out the band schedule here…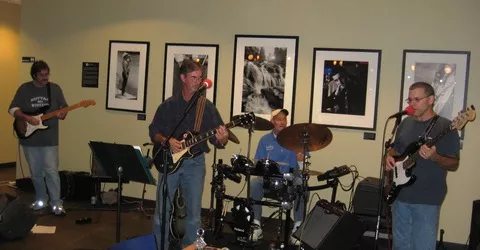 But unlike Alive After Five, River Jam runs until the end of October. Of course, given my luck, it rained on the parade last night when I went for Mick and the Ultras — not as in Michelob Ultra, but Mick Mixon — the voice of the Panthers… and the beat of the drums.
But, lucky for us, the River's Edge Bar and Grill was open…
The River's Edge has a ski lodge feel to it, yet with a beach vibe. And, it just might have the most eclectically exciting menu….ever. Even more exciting than Hef's Bar and Grill's menu that includes fried tomatoes covered with fresh mozzarella.
River's Edge has hummus and fried pickles on the appy menu, salads concoctions with random yet scrumptious ingredients, spinach-walnut ravioli, grilled (pimento) cheese sandwiches, and Mick Mixon recommended the sweet potato fries. I may have just been hungry, but even the waiter said to me, "you're just so happy to be here!"
Because I was… it was a delectable dinner served with live music. The happy old-school tunes of Mick and the Ultras made me want to scoot the tables out of the way and cut up the hard floor. And, River's Edge has Dogfish Head Craft Brewed Ales, as well as a "Swimmer's Special," bucket of PBR.
Cason point: There is nightlife at the US National Whitewater Center… not to mention some really good food (hence my tangent regarding the menu).
Meanwhile, they're getting festive for Halloween with their Fright Nights.