O.A.R. — as in O – A – R, not oar — we're talking about a band here, not a device for steering your boat! I made that mistake once and totally lost some cool points.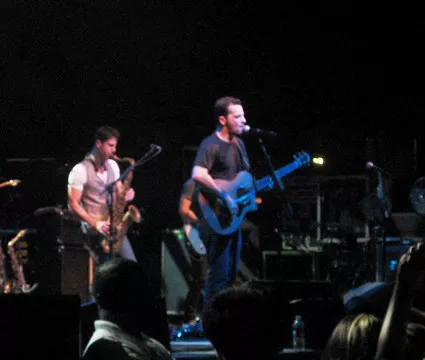 Well, the other night, O.A.R. jammed out at Cricket Arena.
Random fun fact: before the Astrodome was built, Cricket Arena was the largest domed coliseum in the country.
Anyway, it wasn't a crazy game of poker, but it was a crazy night.
After we defensively diverted the line to the gas station at the Monroe Rd. entrance, we made it to Cricket Arena, which had fewer cars in the parking lot than the gas station did.
However, the floor was packed with people jumping up and down to their acoustic accolades.
I just saw the boys last weekend in Charleston, but there was nothing redundant about the show. (I mean, can you really get tired of O.A.R?) Different set list, different crowd, different vibe… same good music. Since I recently grew my hair out I thought I would try a new dance move: head banging. Turns out, its more like head throbbing.
Needless to say, the rockers rocked… and we all partied like rockstars.
Considering no one has gas to go out, we all took the Ragin' Uptown bus to the after party at Whisky River.
The Ragin' Uptown's ad slogan "Beer, now cheaper than gas" is accurate… and a lot easier to get may I add. Getting a six pack at sixteen without a fake I.D. would be easier than getting a full tank of gas right now. Hence the reason Whisky River's V.I.P section was more crowded than the actual bar and the seats were practically empty at Cricket.
Well, let's look at the bright side…. at least we don't have to worry about people drinking and driving after Oktoberfest http://www.charlotteoktoberfest.com/ at Memorial Stadium this Saturday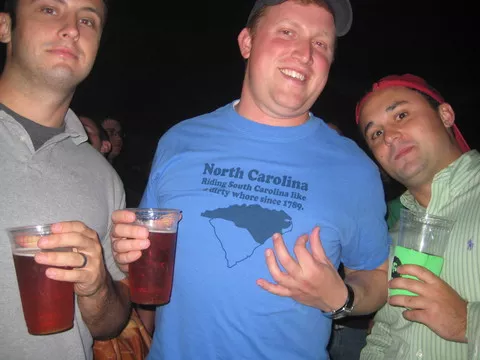 And I just really liked this guy's shirt….