Polished puts the bar in Nail Bar
Wednesdays are Manicure and Martini night at Polished where as soon as you walk through the door, they offer you a complimentary cocktail to go with your economical spa service.
I was handed a strawberry martini garnished with gummy bears. Now, if I'm a connoisseur of anything it would be beer, but I shit you not, it's the best martini I ever had (and not just because it was free either). And I've gone to a lot of fancy Martini bars — it even beats some of the tasty treats at Therapy.
Polish's martinis are like Halloween in your mouth, but more importantly, they give good pedicures. And...they have new chairs.
I felt like I was going back to the future when I sat down in one of them last Wednesday. You sink into the black leather chairs that both recline and vibrate via a remote control that looks like it could control a space ship. But aside from the alternating massage feature, these new chairs have a cup holder…. to put your free martini or wine glass.
Just be sure to specify if you want your nails round, square, or square round, or else they'll automatically make them so square and sharp you could cut your eyeball out.
A manicure is $20 and a pedicure is $25.
They also offer waxing and various spa services. May I recommend a martini before getting a waxing. And although I do recommend making an appointment (especially on Wednesdays), with 18 pedicure chairs and several Nail Bars, walk-ups are more than welcome.
Men, don't feel left out... They offer a Man-e-cure (for men) a Metro or Player's Manicure.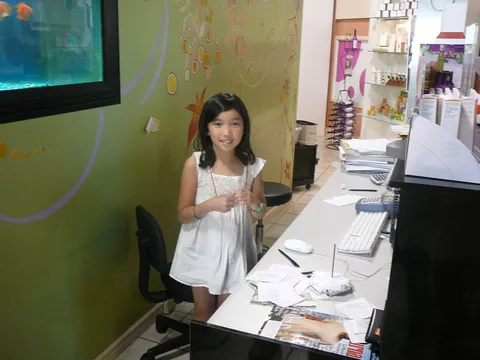 And when you're all done, the owner's 9-year-old daughter will ring you up.