I've got the golden ticket... For you.
Below is a ticket to RockHouse Event's Auction of Luvvv. A half way to Valentine's Day celebration and charity for Brandon's Smile this Thursday at Dixie's Tavern.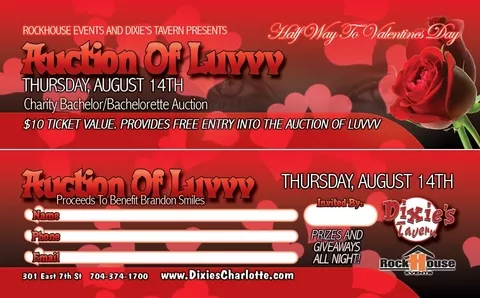 Jacinda from 96.1 The Beat and DJ Jazzy Jimmy will be the auctioneers for bachelors and bachelorettes. But don't fret boys, Jacinda is up for auction as well.
I too am for sale. Along with my roommate Paige... Salt-N-Peppa if you will.
And we have a nice big package too – a sports package... no, I'm not talking about anything having to do with a cup.
We come included with 4 lower level tickets to a Bobcats game, hats signed by NASCAR drivers Kevin Harvick, Clint Bowyer, and Jeff Burton, Panther tickets and signed swag, Roller Derby tickets, a V.I.P table& bottle of champagne from the Bubble Room, a $25 gift certificate to Sports Connection... and... oh, there's more. But you have to come to find out. I'll even give you a free ticket. All you have to do is print out this ticket/blog... cover is $10 otherwise.(starts at 9 p.m. so come after whichever after five party you opt to attend)
Who said the best things in life aren't free?
Here's a list of the bachelors and bachelorettes... come find out what these hotties are packing. As in their packages...get your mind out of the gutter!