She was a big star at Banana Joe's Bar where she sang karaoke every night... And Jamie Leigh was a big star at Whisky River where she performed the other night.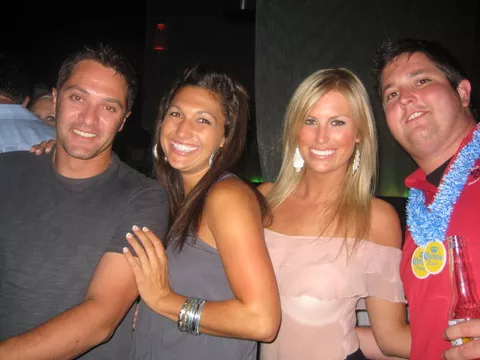 96.9 The Kat had a battle of the bands where the victors garnered the opportunity (or once in a lifetime opportunity rather) to open up for Kenny Chesney on his Poet and Pirates tour when it sails into Verizon Wireless Amphitheater on Aug. 21. Not to mention $25,000.
Kat listeners voted, narrowing it down to four finalists to compete at Whisky River. They had to sing at least one original piece and were judged on vocals, originality, musicianship, stage presence, professionalism, and song choice. I was like Paula Abdul (minus the Prozac, Ridlin, and alcohol) judging the show down.
A recap of the battling bands……
John Browns Plowology – now I know country music is typically lyrically sad – you know, the dog gets run over by a tractor and such. But they took it to a whole other level. They even sang a song about BBQ….a song with meat in the lyrics? I'll give it to them, that is original.
Jamie Carrol – a rock band auditioning to open up for a country artist – again, that's original. The lead singer looked like Adrian G… from Entourage, thus they had stage presence. However, they'd still be better off opening up for Jars of Clay than Kenny Chesney.
The Two Timers – a sassier version of The Wreckers. It sounded a little bit like karaoke during their Miranda Lambert cover; they sounded better performing their own track Country Girl because they sang it with more passion. They sounded good acoustically, but if they had their band they might have (should have) won.
Jamie Leigh – the winner. There's really no point in me telling you more about her because you'll see her on the big stage opening up for big, big star Kenny Chesney at Verizon - you know, the home of the $11 beer.
They played all Kenny Chesney between bands, with the exception of the Cupid Shuffle. NASCAR driver David Stremme asked me to show him how to do it. I asked him if he wanted the country or ghetto version. He requested the ghetto, which entails doing the Soulja Boy when going left and right, and walking it out to the extreme.