Hollywood normally comes to the Carolinas because of the tax breaks they offer them on their budgets. But this time Hollywood (as in Extreme Home Makeover) came to Charlotte to give the King family a break… that, and a major upgrade on their Charlotte home for which they run a neighborhood day care center out of.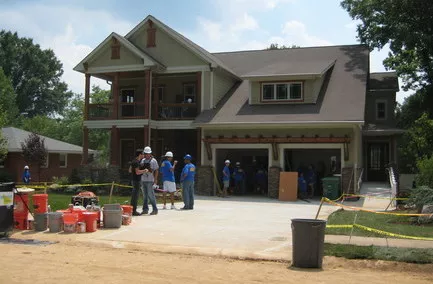 I went to visit the set over the weekend and, as a Production Coordinator that makes commercials for a living, I was in awe of the elaborate television production. It was as though the entire neighborhood near Eastland Mall had been remodeled with production trucks and construction equipment lead by hundreds of volunteers, 60 traveling crew members, a gang of teamsters (that's film production lingo for transporters) and one locally hired production assistant with a broken wrist. But even though all the neighbors on the street have crews, fans and MoHo's (more film lingo for you – motor homes) parked out on their front lawn, they have to appreciate the appreciation.
While standing in line for the catering truck I met the designer Rib Hillis – he pointed to the most recent injury I sustained on my leg and asked, "What happened, did you get bit?"
I could've told him the truth, that my dumbass jumped off a dock and onto a rock in a river. But I thought it would sound cooler if I told him that I got bit by the Mantauk Monster… as in the beached dinosaur looking creature that washed up on the Rhode Island coast line across from an animal testing facility. Hmmm...
He hadn't heard of it so I insisted we Google it right then and there, and then he shared videos of his daughter on his phone. Hot, altruistic, artistic and a good father…...I asked him if he had any friends.
If you have yet to see the Montauk Monster…..Google it!
In a matter of days, the house went from demolished to a mini mansion.
Everyone came together – 6,000 applied to be volunteers, and only 500 were choosen. Now, I realize the economy is bad, but that's bad if there's a hiring freeze for volunteers. Just kidding. The volunteers working around the clock are given the star treatment; they even had an Icee machine set up for them. But this wasn't a million dollar movie budget, most of the production materials were donated and they even had a concert in Symphony Park in SouthPark to benefit the project which was like Pops in the Park… but Hip-Hop in the park.
The unveiling of the house is today and the show will air on ABC on September 15.