Last Saturday, I scoured the streets of Charlotte for some cultural enrichment. First Stop: A Day in Pompeii at the Discovery Place.
Kiss 95.1 had a wine tasting featuring Shannon Ridge Wines to premiere the exhibit that runs now until January 4 (so don't worry, you have a while).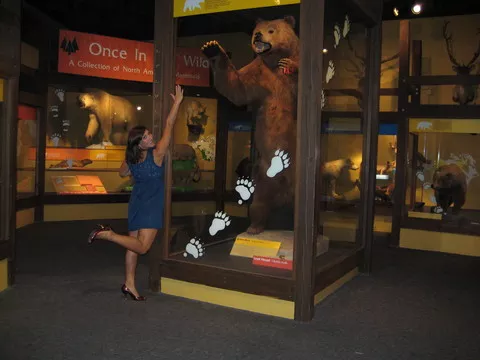 We were like kids in Disney World running through Discovery Place playing with all the gadgets and gizmos off a vino buzz. We explored addiction and high fived a bear.
But then we entered into Pompeii, and there is nothing more sobering than an exhibit of that nature – an exhibit of what nature destroyed and preserved. Before touring the ruins they play a video to give insight into the culture of the bustling Roman City back in 79 A.D., which made the natural disaster of the distant past, not so distant.
Pompeii had a gathering place they called the Forum, and they even had dry cleaners... that used urine as stain remover. But when Mt. Vesuvius erupted, ash and pumice rained down on their city, which covered it completely and caused 20,000 to perish. Pompeii laid buried for 1,700 years, and now part of it is right here in Charlotte. It's horrifically fascinating.
They also highlighted all the major natural disasters over the past few decades, and considering I have an overwhelming fear of natural disasters – it totally freaked me out, and far more severely than going to a scary movie or a party with a clown.
Speaking of which, what do you call someone with a phobia of weather?
Afterwards we went to Press http://www.presswinefood.com/ for their non marked-up wine. It's a good place to go sit and sip on the patio or in their wine cellar style dining room. It has an almost identical ambiance as Dean and Deluca in Phillip's Place - but with sushi and more reasonable prices.
For more cultural enrichment we went to Spirit Square to see the sketch comedy troop Robot Johnson. http://robotjohnson.com/ My friend Selda thought I was taking her to a poetry reading in the park, so needless to say, she was a little surprised when she walked into a skit on the different neighborhoods in Charlotte and a mock talk show taping called "Double Wide." So instead she made up her own poem, "The sun and the moon and the drugs on the street." Not laughing? Guess you had to have been there.