Brad Paisley w/ Jewel, Chuck Wicks, Julianne Hough
Verizon Wireless Amphitheatre
July 18, 2008
(Photos by Jeff Hahne)
The Deal: A Paisley Party and a girls gone country tour at Verizon Wireless Amphitheater with Brad Paisley, Jewel, Dancing with the Stars winner Julianne Hough, oh, and Chad Wicks.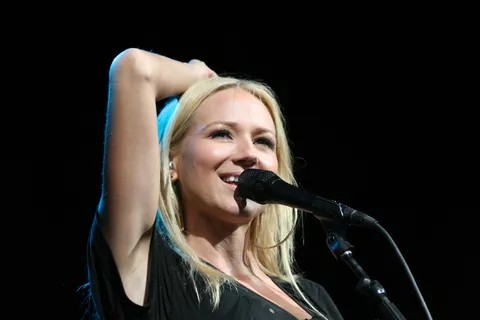 The Good: One word: Jewel. Jewel's first album, Pieces of You, is to this day, one of my favorite albums of all time. It came out when I was in middle school, you know, back when you're at an age where it's normal to worship celebrities. I even had a poster of her on my wall. So when I got the opportunity to meet her before the show (thanks to 96.9 The Kat) I told her, "Thank you, your music got me through my awkward adolescent years." She laughed and asked which song. "Pretty much every song on Pieces of You." "That album got me through those years too," she concurred.
I fell in love with her all over again because for the meet and greet she was wearing a dress from Target, and on stage she wore a stylish sweat suit number, proving she's just a down to earth country girl.
Julianne Hough showed she's more than just a dancer, though not many people were there to witness it.
Chuck Wicks also cruised through his 20-minute set...
Meanwhile, Brad's show had lots of visuals to go with the audio. He rivals Kenny Chesney when it comes to putting on a good country concert. Actually it's safe to say Paisley's show was better. All of his songs are funny, which makes his concert more like a musical comedy. And Paisley is very personable with his audience. He comes out into the crowd and even invited a little girl, a cancer patient, on stage with him.
The Bad: As much as I love Jewel, her song set consisted mostly of her older songs that although are still acoustically driven, don't exactly fit into the country genre. While I personally loved it, I am not sure the country concert goers there to sing along to "Mud on the Tires," and "I Wanna Check you for Ticks" enjoyed it the same. She sang her country hit, "Stronger Woman" early on in her set, then yodeled for her finale. But the crowd seemed to enjoy that.
The Verdict: It was a dual headlining concert (well, at least it could have been), but since Jewel is venturing into a new genre, she's got to earn her headline and strengthen her song sets in it – she just needs to come out with a couple more hits as good as "Stronger Woman."