I was working production on a Sony Bravia commercial being shot here in Charlotte, and some of the crew from L.A. asked me where to go to get first-rate Carolina BBQ. So I sent them to Mac's Speed Shop on South Blvd.
But last night I came to realize that Macs has much more than brisket… as in over 140 different kinds on beer. Not to mention bikers….lots of them, considering it was Bike Night.
I had to park a mile away because the parking lot was monopolized by motorcycles, but the aroma of a backyard BBQ still wafted its way down to greet me as I opened my car door.
It may have been Bike Night, but the quote on the wall describes the diversity of the crowd: "Where Bikers stare at cowboys who are laughing at the hippies who are praying they'll make it out of here alive." ~D.A.C (whoever that is).
And last night, this hippie cowgirl made some new biker friends, including "Mutha," the flamboyant Mac's regular whom you may recognize from the back of bathroom stalls throughout Charlotte. No, not the realtor… the other one.
I also got to try Shock Top; (one of the hundred and some beers they carry) Budweiser's answer to Blue Moon, but as opposed to just an orange garnishing, Shock Top has a citrus blend of lemon and lime as well. Since lemon burns fat, does that make it healthy? Well, it is the equivalent to a Blue Moon Light; I could drink more than one without feeling full, thus it's the perfect summer ale.
And Mac's is the perfect summer bar with live music on the patio. Simplified serenades on Sundays and there is a different band every Wednesday.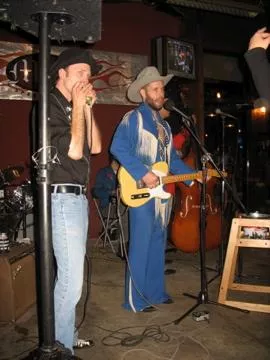 Last night, it was the Loose Lugnuts playing their classic country.
Apparently Hump Days are universally designated Bike Nights because Wednesdays are also Bike Night at Quaker Steak and Lube and Coyotes up in Concord.
For their July 16 Bike Night they're putting the Lube in Quaker Steak&Lube with Jello Wrestling. Meanwhile, this Friday they're having Girls Gone Wild at Coyotes.
Oh, and there is also a Mac's Speed Shop in Lake Norman.
Another installment of Brittney's Random Revelation –
While working on the Sony Bravia commercial I was waiting outside the San Diego Chicken's makeshift dressing room on the second floor of Silver Hammer Studios. I noticed a bee zzzzzz'ing on the window ledge. And all of a sudden a spider the size of my head comes out from under the ledge, grabs the bee, and takes it down to its trenches. It was like watching the Discovery Channel Live…. and although I normally find that sort of thing fascinating, it totally freaked me out and made me feel strange.