Crue Fest w/ Motley Crue, Buckcherry, Papa Roach, Sixx A.M., Trapt
Verizon Wireless Amphitheatre
July 5, 2008
The Deal: Motley Crue rounds up a bunch of their friends and hits the road for inaugural Crue Fest.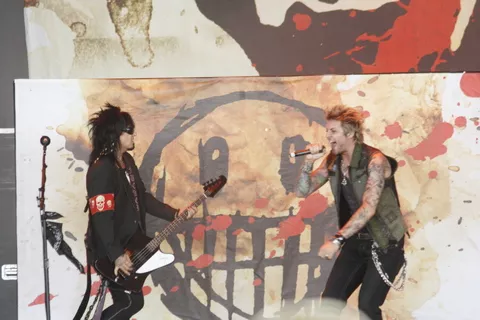 The Good: Plenty of rock with an edge... The crowd was sparse for Trapt, but plenty of people showed up to check out Nikki Sixx's side project, Sixx A.M.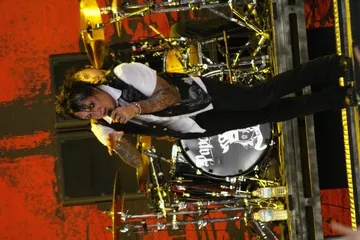 The energy level grew steadily after that with a hit-heavy set by Papa Roach - they threw in a couple new ones - and a hard-charging, raucous set by Buckcherry. Buckcherry seemed to fit the bill perfect with their sex, drugs and rock 'n' roll themes and extended their hit, "Crazy Bitch," for roughly 10 minutes, while throwing in verses of "Stroke Me" at the end.
Motley Crue came out with lots of pyro after a brief shadow dance of an angel giving oral to the devil. With a stage set up to look like the Hollywood sign - this time it was Los Angeles, backwards to look like they were playing behind it - the Crue rifled through hit after hit, sprinkling in new tracks "Saints of Los Angeles" and "Motherfucker of the Year" from the new album. Mick Mars, though he continues to look like he's in rough shape, showed he hasn't lost a thing when it comes to playing guitar and shredding riffs and solos.
The Bad: It's a great way to see a handful of bands, but not if you want to see an extended set. Trapt and Sixx A.M. each played for 30 minutes, Papa Roach and Buckcherry each got 45 minutes and the Crue was on for about an hour and a half. There were lots of kids in the crowd, which was surprising considering all the "f" bombs that were dropped.
Buckcherry singer Josh Todd also found time for a brief chat about anal sex - not for the kids. No standard Tommy Lee drum solo, and his moments with the "Tit E. Cam" seemed forced...though he wasn't lacking for women craving attention. LOUD - a number of people left a few songs into the Crue because of the volume level. They were scheduled to play until 10:50, but left the stage at 10:30 before coming back for the encore of "Home Sweet Home."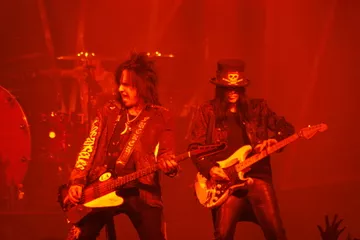 The Verdict: Crue was better on the Carnival of Sins Tour. Buckcherry stole the show, though they should have had more time. Good for a mix of bands, but not for a solid, full set. The final three bands all seemed to head out when the crowd was just getting warmed up.
Motley Crue Setlist
Kickstart My Heart
Wild Side
Shout at the Devil
Saints of Los Angeles
Live Wire
Motherfucker of the Year
Don't Go Away Mad (Just Go Away)
Same Ol' Situation
Primal Scream
Looks that Kill
Girls Girls Girls
Dr. Feelgood
Encore - Home Sweet Home
Buckcherry Setlist
Tired of You
Lit Up
Ridin'
Porno Star
Whiskey in the Morning
Everything
Sorry
Crazy Bitch