I have finally come to terms with the fact that I...am a freak of nature. I am actually kind of surprised that I haven't been recruited for some traveling freak show.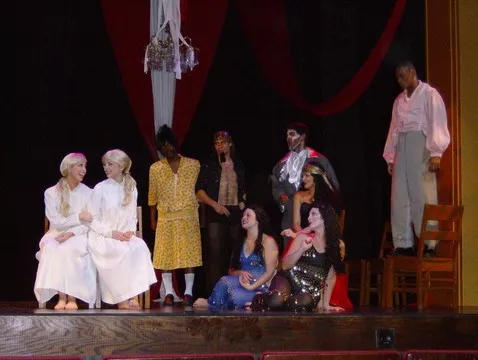 Although I did get invited to get a backstage, sneak peak of the play Side Show, a musical depiction of the lives of the Hilton Sisters. No, not the Hilton sisters you'd see on the cover of US Weekly, the ones you'd see on the cover of Creative Loafing… Siamese twins Daisy and Violet Hilton.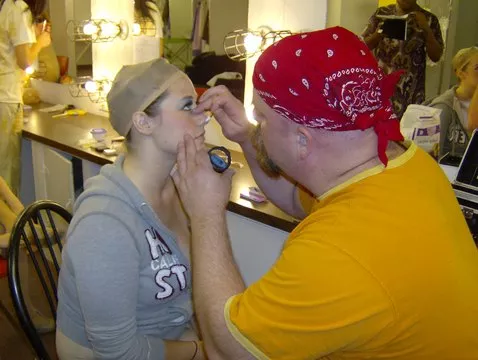 Last night, make-up artist Martin Barry invited me to the final dress rehearsal before curtain call tonight. I got to see first hand how you make attractive people look like freaks, and he has his work cut out for him. The costuming and make-up is Broadway caliber, especially considering the production is being put on by a non-profit theater group — the Queen City Theater Company. There are more costume changes than a Janet Jackson concert.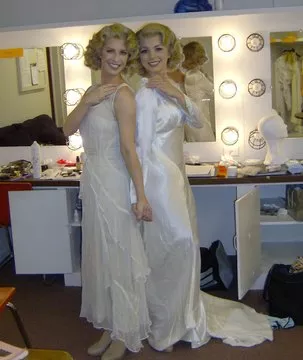 Other than our backstage banter, I didn't hear the actresses playing the Hilton sisters (Sydney Shepherd and Alyson Lowe) talk once, their entire dialogue is musical. But Violet Hilton (Shepherd) sounds like Disney's Little Mermaid...and I mean that as a compliment. The music is conversational, but beautifully composed. After one set I couldn't help but applaud...even though I was the only one in the audience. It takes skillful choreography for Shepherd and Lowe to do their song and dance while remaining hip to hip throughout the entire performance.
The play is a depiction of the Hilton sister's freak to fame life. The two, although conjoined together at the hip, are polar opposites; Ying&Yang. But we learn from the play that they are just looking for love like the rest of us.
As if we women don't have it hard enough, those poor girls are condoned to threesomes. But if freaks can find love, well, so can I!
The play concludes with... Yeah right, I'm not telling you – go see it for yourself.
After all, these famous sisters are buried in Charlotte in Forest Lawn Cemetery off Freedom Drive, after being abandoned by their manager at an old Monroe drive-in theater.
Side Show, directed by Glenn Griffin, premieres tonight at McGlohon Theatre in Spirit Square, which by the way is reminiscent of being in church.
Show schedule is as follows…
TONIGHT! Thursday July 3 – 8 p.m. ...and after the opening performance there's an open bar!
Saturday, July 5 – 8 p.m.
July 9 – 12 8 p.m.
July 13 – 2:30 p.m.
July 17-19 8 p.m.