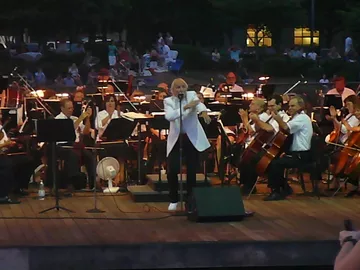 Sunday Funday at Summer Pops …as in in Charlotte Symphony's Sunday summer concerts series in Symphony Park...at South Park. That's a lot of parks.
Speaking of which, good luck trying to find a place to park your car or your booty if you don't get there early. The best way to describe the crowd is…well, crowded. It gets so crowded in fact that people go to the park around 8 a.m. to lay out blankets to reserve their spot for the 6:30 p.m. show. By noon, you can't even see the grass.
Pops in the Park was the perfect Father's Day Fest. The crowd put football tailgaters to shame with their picnic baskets and knee-high tables covered with bottles of wine, cheese and crackers, and cards. It's just one big massive picnic.
And let's put it this way – the South Park area is the perfect location for the Orchestra's audience. Everyone was just chillin' like villains, maxing and relaxing and pimping polos. Especially the guy taking a nap using a Panther's seat cushion as a pillow.
Last night was Summer Pop's Latin night. The guy on the cello was festive in his Sombrero. Meanwhile the conductor — that looked like Einstein in Air Force Ones — made the entire crowd stand-up and do the "Marcerena" to a song that sounded more like Lionel Ritchie's "All Night Long." But we all went with it. And he conducted the dance like so: "head-head-tush tush."
Next week is "Off Broadway" and they're going out with a bang. Literally – they're having Fireworks for the Fourth of July.
Go before the series ends. Just go early.