Bonnaroo
June 14, 2008
Manchester, Tenn.
The third day of Bonnaroo could almost be called Mudaroo, if not for a small miracle that turned into sunshine late in the morning. What started out as a rainy cold day, turned into the festival's best - not too hot, a little overcast and a perfect night.
A long set by Pearl Jam (setlist at the end), The Avett Brothers blowing everyone away and...well, did Kanye ever show up?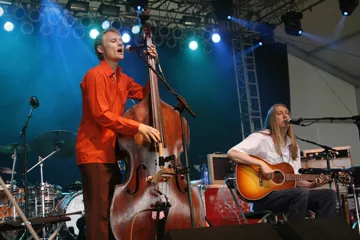 My day got started when The Wood Brothers hit This Tent for a folk/Americana set. Great harmonies, no extra charge.
I then checked out Matt Morris, who is the first artists signed to Justin Timberlake's label. Morris has good vocals, good songwriting and I could easily see why the pop-rocker was picked up by Timberlake. There's a similarity there that I couldn't put my finger on - something in his vocal style...
Donavon Frankenreiter was at The Other Tent ...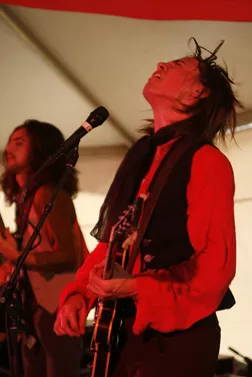 ...and then I checked out Carney, whose lead singer looked to be on the verge of a seizure before each chorus. That's one band to keep an eye out for!
Sharon Jones and The Dap Kings brought that old-school feel to Which Stage while Against Me! put on a fantastic show in That Tent. If you have a chance to check them out on Warped Tour this summer, I highly recommend it. If they can put out that much energy in the heat of Bonnaroo for more than an hour, imagine what they can do in just 30 minutes.
Ozomatli brought the Spanish funk to wake up the main stage...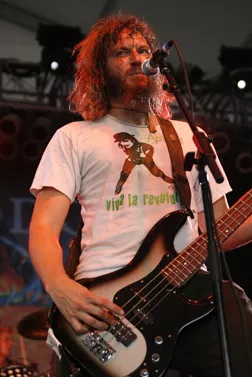 Mastodon brought heavy metal to That Tent...at least for a while. I left half-way through, but heard the band cut their set short and was reportedly fighting before they went on stage...unconfirmed on that end...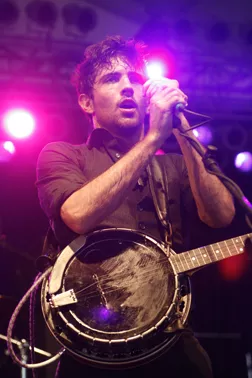 The Avett Brothers were over at The Other Tent, and when I walked up I was surprised, and glad, to see the tent was overflowing with people singing along.
The guys, with short hair, were as energetic and charismatic as ever and impressed the hell out of me all over again. I can't remember the last time I got chills listening to a band... They were spot-on and sounded amazing.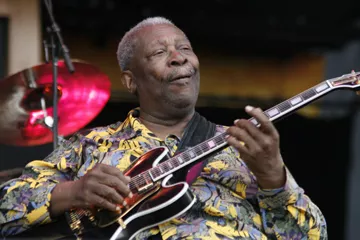 B.B. King took to What Stage at 5:30 and was as entertaining as ever. Sure, some of his lines are old, but it's B.B. Freakin' King - I could listen to him play any day.
Zappa Plays Zappa (setlist at bottom) showcased the music of Frank, as Dweezil did his father proud. (They're playing the Neighborhood Theatre soon - check them out!)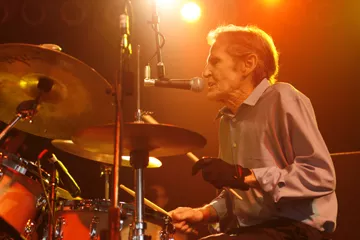 Levon Helm and the Ramble on the Road showed that the former leader of The Band still has what it takes, and then some. He looked a bit frail, but his vocals sounded better than on the album, and he didn't miss a beat. Of course, they ended their set with "The Weight."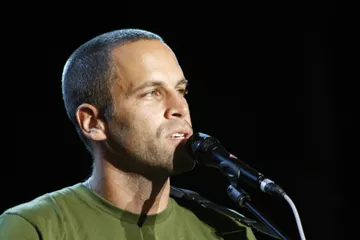 Jack Johnson brought his surfer folk to the main stage, which seemed a perfect way to kick off a night of great weather. He was also joined by Pearl Jam singer Eddie Vedder for a song.
The night's headliner was Pearl Jam who held nothing back and put on a show that people will talk about for a while. Vedder went up to the crowd, stood on top of an amp, Mike McCready played a solo behind his head...
Pearl Jam's three-hour marathon (an hour over their listed play time) included "WMA" - played for the first time in 13 years. It seemed like they'd never leave as they kept coming back and the encores kept going on. No complaints though, of course! (Well, only the fact that they, like Metallica, limited the photographers...and I wasn't one of them.)
Their version of "Reign O'er Me" is absolutely amazing, and I was more than thrilled to hear "Porch," which happens to be my favorite PJ song.
Phil Lesh and Friends hit Which Stage while Pearl Jam was still playing for a set of Dead tunes that lasted til 3:30 a.m.
Sigur Ros brought their quirky vibe to That Tent... I'll be honest. I don't get it. Really high vocals I couldn't understand, organized noise... not a fan.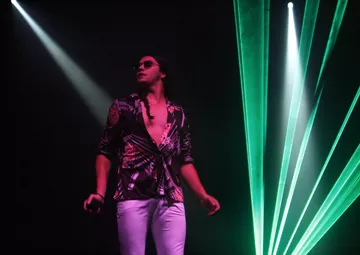 Ghostland Observatory rocked their techno/rock style in This Tent with more lasers than a Floyd show.
As for Kanye West...I'm waiting to hear. His original set time of 8:15 was pushed back to 2:45. At 2:45, a patient crowd was waiting while a sign reading "Up Next: Kanye West!" was shown on the jumbotrons.
At 3:10, a new message read, "Kanye West at 3:15 a.m." At 3:15, it said, "Kanye West at 3:30 a.m." I left... His set finally started around 4:25, by which time many people had gone to sleep, and continued until it was the "Glow in the Dawn" Tour. I'm not surprised. I heard it's because the stage took so long to set up. If that's the case, then he should have done a different set, modified the stage or just not performed.
Another rumor was that he didn't want to perform while any other bands were still on stage, so that he would be the only one performing. I lean toward thinking this is the case...
To put it simply, the guy is an arrogant jackass. He could have come out and apologized to his fans, made an appearance on stage and explained what was going on... If his fans and everyone else would stop putting up with his diva crap, maybe he'd come back down to earth.
On Sunday: Robert Randolph, Death Cab for Cutie, Robert Plant with Allison Krauss and Derek Trucks/Susan Tedeschi.
Pearl Jam setlist
Hard to Imagine
Corduroy
All Night
Why Go
Elderly Woman...Small Town
Down
Who You Are
Severed Hand
Half Full
Animal
Evenflow
Daughter
Gone
Reign O'er Me
Do the Evolution
Rearview Mirror
Encore 1
WMA
Betterman/Save it for Later
Black
Life Wasted
Crazy Mary
Porch
Encore 2
No More
Release Me
Alive
Encore 3
All Along the Watchtower
Zappa Plays Zappa setlist
Tiger-Purple Lagoon
Imaginary Diseases
Tiny Lights
Beautiful Girl
Beauty Knows No Pain
Flakes
Broken Hearts
Bamboozled
King Kong
Lucille
Joe's Garage
Wet T-Shirt Night
Outside Now
He Used to Cut the Grass
Packard Goose
Cosmik Debris
Willie the Pimp