Bonnaroo
June 13, 2008
Manchester, Tenn.
Well, I made it through all of last year and one-and-a-half days this year of no rain at Bonnaroo, but that streak was quickly broken. It started raining just before the headling sets of Chris Rock and Metallica (a setlist follows this blog) and went through the Superjam (set also listed at end) this morning. I'm working on about four hours of sleep, but it's the music that keeps me going...
Forecast for today: more rain...good times.
My day got started off with Drive-By Truckers on the Which Stage. I've now seen them a couple times, and still don't understand the mass appeal... it's just kinda sleepy to me. I haven't given up completely on them, but someone should point me to the right song to win me over.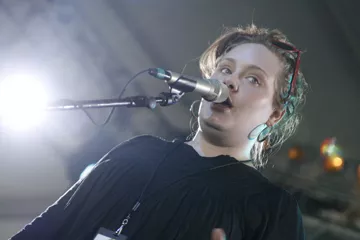 Adele sang in The Other Tent, and almost immediately complained about the heat. Welcome to Bonnaroo! She said she had never experienced anything this hot. She wasn't bad - kinda like Amy Winehouse (maybe it's the accent.)
Tegan and Sara rocked This Tent, while Minus the Bear brought their indie rock to That Tent. Minus the Bear did enough to intrigue me to giving them a further listen...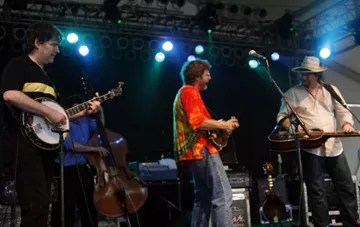 Next up in The Other Tent was an absolutely impressive set by The Bluegrass Allstars - Luke Bulla, Sam Bush, Jerry Douglas, Bela Fleck, Edgar Meyer and Bryan Sutton.
On Which Stage was Les Claypool - playing as an unnamed quartet... It was mostly just his solo stuff. "This is my 13th Bonnaroo..." Claypool told the crowd. The humor being that this is only the seventh year.
The Raconteurs ripped up the main, What Stage, as Jack White tore through riff after riff and showed why the band has garnered so much praise.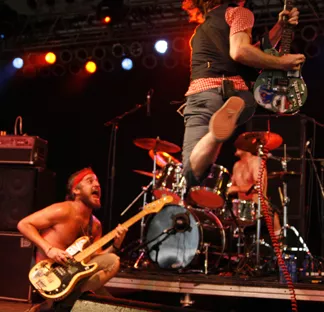 State Radio lept their way around The Other Tent for a solid rock show...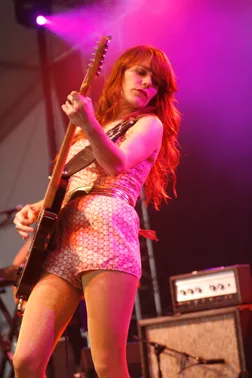 Rilo Kiley, who was introduced by the famous Beatle Bob, sounded great in This Tent. (Beatle Bob is a guy, slightly odd character, who has gone to a concert every night for a number of years. He's a quirky mainstay around the music community.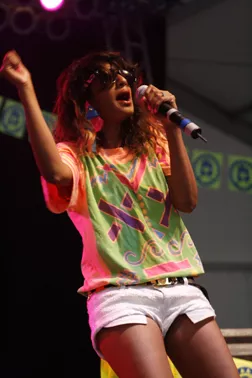 M.I.A. hit That Tent a little later than scheduled but had the whole crowd moving. She had high energy and good beats, but I still don't get the hype that landed her at the top of so many album charts.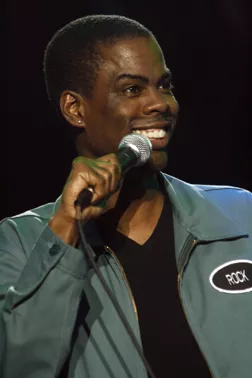 Chris Rock performed for an hour on the main stage and had a massive crowd laughing their collective asses off. The rain may have started, but it didn't dampen the enjoyment. Rock discussed politics, sex, children and even made some jokes about Bonnaroo. One went something like, "The sex you were promised for taking your girl to Bonnaroo is the same sex you got at home, just a little sandier."
Metallica, who severely limited the number of photographers allowed to take photos (mine came from distant bleachers), was up next and for a crowd that made so many complaints about the band headlining, the area was packed and sang along to nearly every tune. Fists pumped in the air and the band rifled through hit after hit. They did seem to stick to the older tunes...nothing off their last album, or the new one. I was also disappointed that they didn't play "Welcome Home (Sanitarium)."
James Hetfield told the crowd, "We support live music and that's why we're here." They sounded fantastic on "Fade to Black" and ripped through "Master of Puppets." "One" featured a number of pyrotechnic explosions and fireworks, and they tossed in a few more for "Enter Sandman."
The sound went out briefly during their final encore song, "Seek and Destroy," which may have been the only fault in their 18-song set. At the end, each member thanked the crowd and Lars Ulrich said, "We'll come back any time!" For a crowd that clearly isn't a large number of Metallica fans, they did their job.
My Morning Jacket was next up on Which Stage and played an hour longer than their three-hour scheduled slot. I'm sure fans didn't complain - and Metallica's Kirk Hammet showed up for a song- and they ended the night with a cover of Motley Crue's "Home Sweet Home."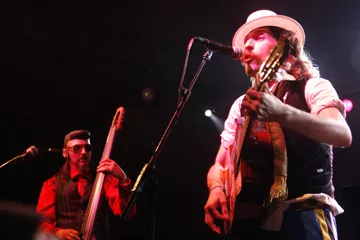 My late night was spent in The Other Tent watching the much-rumored Superjam come to life. What started out as Les Claypool with Gogol Bordello playing a number of Tom Waits covers in a Gogol style, got kicked up a notch at the end when Hammet came in to shred some guitar on four songs.
They played "Russian Dance" twice because Hammet wasn't there the first time around, and they had run out of songs to play...the crowd wanted more. The crowd slowly dwindled, and most missed out on a musically tight jam that was energetic and all members truly seemed to have a blast doing.
Among those scheduled to play Saturday: Against Me!, Gogol Bordello, The Avett Brothers, B.B. King, Zappa Plays Zappa, Levon Helm, Jack Johnson, Pearl Jam and Kanye West.
Metallica setlist
Creeping Death
For Whom the Bell Tolls
Ride the Lightning
Harvester of Sorrow
Unforgiven
And Justice for All
No Remorse
Memory Remains
Fade to Black
Master of Puppets
Whiplash
Nothing Else Matters
Sad But True
One
Enter Sandman
Encore
Last Caress
So What
Seek and Destroy
Superjam setlist
That's the Way
I'll Be Gone
I Don't Wanna Grow Up
Cold Ground
Russian Dance
Lay Your Head
Bullets
Middle Class Girl
16 Shells
Japan
D's Diner
Russian Dance