Bonnaroo
Thursday, June 12
Manchester, Tenn.
It almost feels like I never left ... When I pulled up to the site yesterday, it all seemed familiar and oddly comfortable -- well, until the sweating started.
It's hot here ... really hot. But that's to be expected. I also expected that half way through the bands of the day, I'd know it was all worth it.
Like last year, a lot of things are the same - the heat, the camping, the stages ... But some are new -- there's a new comedy tent, a New Orleans themed tent, less dirt and surprisingly better food.
I started off the day wandering the grounds, people doing yoga, mailing post cards at the post office/mud hut, buying merchandise, etc.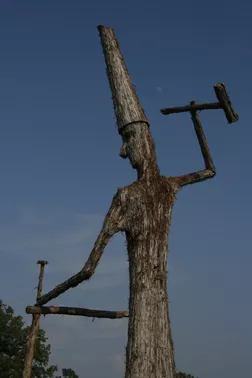 There's also the standard amount of massive, strange artwork around the grounds.
The first band to hit the stage was Austin's indie-pop What Made Milwaukee Famous at 5:45 at This Tent. If you aren't familiar with Bonnaroo, it's a lot like an Abbott and Costello routine -- This Tent, That Tent, The Other Tent, Which Stage and What Stage.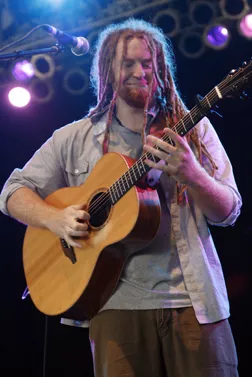 I then headed over to That Tent to check out 23-year-old Newton Faulkner. The English hippie with long dreads is one hell of a guitar player. He reminded me a lot of John Butler ...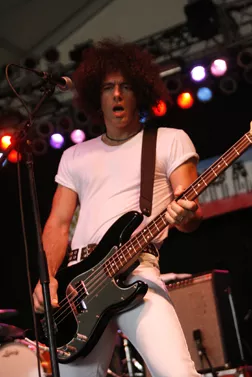 It was back to This Tent for Superdrag. The generic alternative rockers with a highly-energetic bassist are from Tennessee, so it's no surprise there was a large crowd.
I then got absolutely blown away by Grand Ole Party. The singer, Kristin Gundred, may draw a lot of comparisons to Karen O -- and the music is a bit similar to Yeah Yeah Yeahs, but she camps out behind the drum set and rocks the place.
That's the beauty of Bonnaroo -- you can always find a new band or artist that you find amazing and want to rush out and buy their album. Grand Ole Party, Newton Faulkner and a few others have already done that for me.
One of the others was Back Door Slam. The British blues act has an incredible guitar player that reminded me of John Mayer and Eric Clapton combined. They played a cover of "Riding with the King" and "Almost Cut My Hair" that had me standing with jaw dropped. Their originals were just as impressive.
I went to catch the freaky, electronic folk of MGMT next. Not bad, but it didn't impress me as much as it did most people in the tent. Maybe I should have given it more time.
Over in The Other Tent, former Charlotte resident Nicole Atkins was enjoying the large crowd and showcasing her vocals. One member of the audience said he only caught her on YouTube and was so impressed that he waited to be in the front row of her set.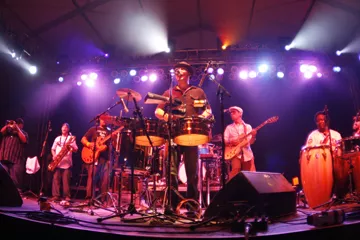 On a whim, I walked over to see Grupo Fantasma for some high-energy Latin funk. The 11-piece band had the whole crowd moving. Add them to the list of groups I want to hear more from ...
Next up was Battles -- I have no idea how to describe it. Some people call it math rock, but it was so all-over-the-place and incredibly tight. Ex-Helmet drummer John Stanier is getting added to my list of best live drummers. The cymbal overhead, the fast beats ..."damn," is about all I can say.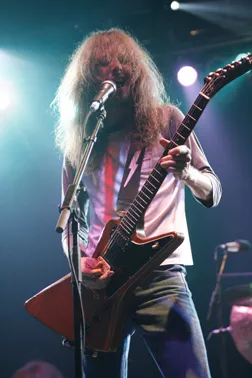 The Sword hit That Tent at 10:30 and played some unimpressive stoner metal. I couldn't hear a word of the vocals and left shortly after getting there.
Vampire Weekend was the night's main attraction as many people flooded the tent and watched the quartet of Columbia grads. The band sounded great live and made me want to go back and hear their album again.
Two other late-night acts were cover bands -- Dark Star Orchestra played Dead tunes and Lez Zepplin, you can guess that one.
Odd to have Dark Star playing Dead tunes when there's four hours of Phil Lesh coming Saturday.
Among those on the schedule for Friday: Drive-By Truckers, Adele, Les Claypool, The Raconteurs, Chris Rock, Metallica, My Morning Jacket, Rilo Kiley and MIA.